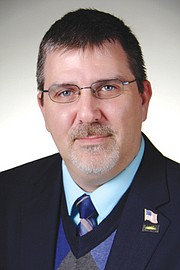 SUNNYSIDE — Thinking ahead to 2018, Mayor Jim Restucci says "It's going to be an exciting year."
The first exciting news is that the second largest city in Yakima County continues to grow. The Office of Financial Management estimates Sunnyside's population at 17,230. It was 16,700 last year.
"We are the second largest city, and others look to us. We need to set the example," Restucci said.
Restucci believes that fiscally the city has done that for a long time. The city manages to provide quality service to the residents, control its budget and pay its bills.
Restucci has been mayor for several terms, but that could change Monday evening's 6:30 p.m. City Council meeting at the Law and Justice Center at 401 Homer St.
The council selects a mayor and deputy mayor every two years.
Wherever Restucci ends up, he'll continue to work on behalf of the community. Of the 20 or so county boards and commissions on which Sunnyside is represented, he serves on 11.
Restucci has been the chairman of the Yakima Valley Council of Governments the past eight years.
"Some people don't think those boards and commissions are important," he said. "But they are. The other communities are there. If we're not there, then our voice will not be heard."
When Restucci was appointed to the YVCOG 14 years ago, Sunnyside did not have a seat on the Executive Committee.
It was through Restucci's actions and the actions of the YVCOG Executive Committee and the chair at the time, Council Member Al Hubert from Toppenish, that allowed the changes to the by-laws to give Sunnyside a permanent
seat.
Looking ahead to this year, Restucci said the most exciting development will be the construction of the new Astria Sunnyside Hospital.
"It's one of the premier things we're happy to see happen this year," he said.
Other things Restucci is touting include the airport runway and taxiway project that will be completed in the spring.
"We will be replacing the bridge on Sunnyside at NW Crescent. This is a very old bridge and in desperate need of being replaced," Restucci said.
Restucci also expects work to start on the much needed traffic light project at the 6th Street and Yakima Valley Highway intersection in the spring.
Each of these projects is being funded by state and federal grants with matching local funds.
"We will also continue to work with the hospital in the development of the new hospital," Restucci said.
The city has secured all funding needed to complete the offsite improvements (water, sewer, road). Now it awaits final word from the U.S. Department of Agriculture on funding of the onsite project (the hospital building and associated parking lot, etc.).
"We will also be doing the work on the East Edison sidewalk project to connect the YV Tech campus to the high school," Restucci said.
"We will begin transitioning our fire department to a new self-contained breathing apparatus system. The police department will be getting an updated radio system."