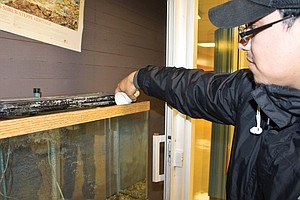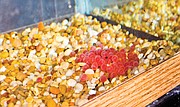 GRANDVIEW — The care of 100 salmon eggs is now the responsibility of high school science teacher Jennifer Santjer.
The eggs, which came from the Yakima Nation Prosser Fish Hatchery, will be in the tender care of Santjer and her science students as a part of the Salmon in the Classroom project, hosted by the Southwest Yakima Conservation District, Biologist Rachel Little of the Benton Conservation District said.
The ecology project is also under way in Sunnyside at Pioneer and Chief Kamiakin Elementary schools and Sunnyside Christian Elementary and Christian High School, Little said.
The eggs, which are now just a pile of pink orbs with black pinpoints, will develop into hatchlings over the course of the next three weeks, she said.
Little said the South Yakima Conservation District sponsors the fish tanks at the high school, which are set at a minimum temperature of 52-54 degrees Fahrenheit.
The tanks allow high school and grade-school children to rear baby salmon in the classroom during the winter and release them in late spring into the Yakima River.
Santjer, who is taking on the salmon project for the first time, is excited about working with her students on the ecology project.
"I am excited for the students to see the development of the eggs into fish," she said.
Program elements include tank loan and set-up, supplies, 24/7 technical support, teacher training, coordination of fish permits, loan of educational materials, volunteer recruitment and coordination, classroom presentations and field trips.
Little will be helping teachers with lessons about salmon, help the teachers operate the tanks and organize the salmon release field day.
Working on the project in Sunnyside are Chief Kamiakin teacher Amy Peters, Pioneer teacher Jamie Johnson, Sunnyside Christian Elementary teacher Estela Rodriguez and Sunnyside Christian High School educator Jon Riebe.
The Salmon in the Classroom project has been around since 2000, offering students a closer connection to the fish living in local waterways, Little said.