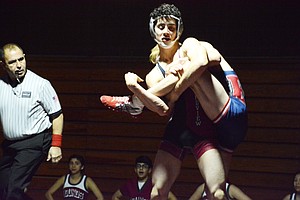 SUNNYSIDE — Two Lower Yakima Valley boys wrestling teams hosted league foes in dual meets this week.
Wednesday, the Grizzlies defeated West Valley (Yakima) 53-15, and yesterday, the Grandview Greyhounds lost 30-36 to Ellensburg.
West Valley 15, Sunnyside 53
The Grizzlies secured the victory over the Rams with two pins, two technical falls, a major decision, two forfeits and three decisions.
The Rams mustered two pins and a decision to account for their 15 points.
Winning their matches by pin were Grizzlies Daniel Huizar (220) and Jector Ramirez (285).
Huizar subdued Hunter Vickers in 5:48, and Ramirez won his match in 2:47 against Seth Jacobs.
Ignacio Payan (113) won a 12-0 major decision over West Valley's Anthony Capi.
132-pound Austin Villanueva and 182-pound Moises Morales defeated Cody Lowry and Kadin Rathburn of the Rams via technical fall, respectively. Villanueva and Morales won by identical 17-1 scores.
Izaiah Gonzalez (145) of the Grizzlies won a 3-1 decision against Josue Navarro, teammate Alan Ochoa won the 170-pound bout against Stephen Farris via a 4-0 decision, and Isaiah Lopez defeated Chris Luke, 6-0, in the 195-pound bout.
The Rams forfeited the 106-, 120- and 126-pound bouts.
West Valley's Chris Moores won the 138-pound match against Nathan Davila via pin in 5:40, and teammate Jared Navarro pinned Anthony Moyer (152) of the Grizzlies in 1:13.
A 5-0 decision in favor of Connor Koch of the Rams was handed to Issac Rodriguez.
Ellensburg 36, Grandview 30
The Greyhounds last night began last night's dual agains the Bulldogs with a pin in 3:43 for 120-pound Adrian Benitez and a 10-5 decision for Kenneth Plaza at 126 pounds.
D.J. Saunders pinned Jesse Holloway in 1:48 at 132-pounds, and 138-pound Ian Campuzano won via fall in 3:23 against Wade Weaver.
But, the Bulldogs won the next two matches via 7-6 and 8-5 decisions in the 145- and 152-pound classes, respectively to turn the tide. Losing those matches were David Lopez and Jesus Sanchez.
Greg Vivar (160) was pinned in 1:08, Alec Lepe was pinned in the 170-pound bout, as was 195-pound Emilio Gonzalez.
The Greyhounds won two matches and lost two via forfeit.