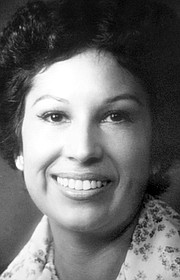 On Jan. 2, 2018, our beloved wife, mother, grandmother, great-grandmother, sister, aunt, cousin and matriarch Elva Rose Torres joined her Lord in watching over her family from Heaven above.
She was born Oct. 24, 1944, in Mabton, the daughter of Adelina (Hernandez) and Jose Alvarez. On May 9, 1959, Elva married the love of her life and dashing husband, Ascension "Chon" Torres in Sunnyside. She gave birth to three children, Michael, Christina and Michelle.

Elva began her working career and was hired on the spot for Howard's Empire Drug in Sunnyside, where she was a cosmetician for 17 years. During this time she earned her GED and was recruited by Elizabeth Arden to be a representative for the company. Elva chose her family first and declined their gracious offer.
Elva was a very talented lady as a seamstress, gardener and cook, besides being the best grandma and caregiver her grandchild could have ever wished for. Elva was a member of the St. Joseph Catholic Church in Sunnyside.

She is survived by her loving husband, Chon Torres of Sunnyside, a son Michael Torres of Camas, two daughters Christina Rivas (Ray Jr.) of Sunnyside, and Michelle Baugher (Rod) of Pasco, five grandchildren Jenna Pitney and significant other Danny Messmore, Casey Pitney, Mitchell Pitney and fiancée Karly Sattler, Alyson Baugher and Joan Torres; four great-grandchildren Leif Van Doren, Jasiah Van Doren, Isabelle Gillihan and Carianna Gillihan. She is also survived by one sister Josephine Alvarez Vialle (Greg) and numerous extended family members.

Viewing and visitation will be from 4-8 p.m. Sunday, Jan. 7, 2018, with the Recitation of the Holy Rosary at 6 p.m. at the Smith Funeral Home, Sunnyside.

Mass of Christian burial will be at 11 a.m. Monday, Jan. 8, 2018, at the St. Joseph Catholic Church in Sunnyside.
In lieu of flowers those wishing to honor Elva's memory may contribute to the St. Joseph Catholic Church youth program.
Those wishing to sign Elva's online memorial book you may do so at www.funeralhomesmith.com.