Thursday, January 4, 2018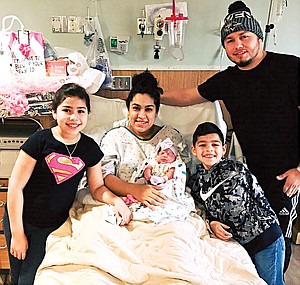 While the rest of the world celebrated New Year's Day, Tanahiri and Samuel Torres waited on the arrival of their third child.
Kamila Torres was late for the revelry arriving Tuesday at 8:09 a.m. according to hospital sources.
She joins older Brenda and Jeremiah. Her new family portrait graces the PMH Medical Center Facebook Page, thanks to Community Relations Director Beth Knapinski.
The hospital's first baby of the year receives a basket of baby goodies to celebrate her birthday.
Meanwhile at Astria Toppenish Hospital, no babies have made a New Year's appearance. A birthing room nurse said none were expected until Jan. 10.
Sunnyside's hospital claimed the first four new babies of the years with a baby boy, Carlos Guzman being first at 2:56 a.m. Jan. 1.
Three more babies, two boys and a girl, followed him in quick succession.

Esther Cervantes-Mendoza and Edilberto Sanchez' boy was born at 7:59 a.m., followed by Yadira Diaz Hernandez and Felix F. Placencia Bernal's daughter at 8 a.m. Marisol Gomez and Brian Galvan's baby boy arrived at 12:27 p.m.
All babies are health and doing well, local nursing staff reported.