Thursday, January 4, 2018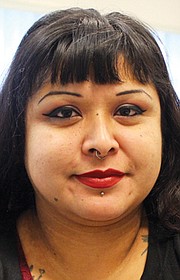 Alviso's passion: advocacy
After earning her bachelor's degree in education, Vanessa Alviso thought her future was settled.
Her love for helping youth would be fulfilled by teaching. But that goal didn't work out as well as she had hoped.
"I realized something was missing, not that teaching wasn't good," she said.
The advocate role she dreamed of has been born of work she had done while working with incarcerated youth at Green Hill, a maximum-security facility in Western Washington.
She learned of the programs while a student at Evergreen University.
"I loved working with youth and I can see myself doing more of that work in the future," she said.
Now, Alviso has taken a step in a different direction, advocating for community peace as a VISTA volunteer.
She said her focus as Heritage University liaison coordinator for community communications is to organize the response teams, build a curriculum, enhance communications skills and community involvement.
"This is right up my alley," the Sunnyside High School alum said.
She still intents to find work working with victim-offenders.
"I'm excited to help kids find their way." Alviso said.
SUNNYSIDE — Helping people to plan for crisis response instead of reacting to crisis is the purpose of a program being organized by Sunnyside woman Vanessa Alviso.
An AmeriCorps/VISTA volunteer, Alviso is working jointly with Dispute Resolution Center and Heritage University to organize community response teams in Yakima County.
She said community response teams will be made up of representatives of different sectors of our community.
As the Heritage University liaison coordinator for community communications, she is bringing together two response teams in the county.
"One will be stationed in the Upper Yakima Valley and the other located in the lower valley," she said.
Trainings for both groups are planned for Jan. 24-25 in Sunnyside and Jan. 26-27 in Yakima.
"We have already received commitments from several locally elected officials, members of the faith community, tribal officials, community activists, students, and members of law enforcement," Alviso said.
Currently 12 people have committed to take the training and be members of the response teams in the Sunnyside area, Alviso said. Another 16 are pledged to be members of the upper valley team.
Alviso will be will facilitate a series of workshops for community decision makers as follow-ups to the initial training.
She said the funding for the team building is provided by the Yakima Community Foundation and the Vista programs with the addition of resources from the Dispute Center and the university.
"The goal of Community Response Teams is to form a cohesive unit that will respond to community crises in a timely, informed, and unified manner," Alviso said.
The Dispute Resolution Center will provide the structure and training needed to form strong, supportive networks that help team members work together toward a shared goal: a peaceful community.