Wednesday, January 3, 2018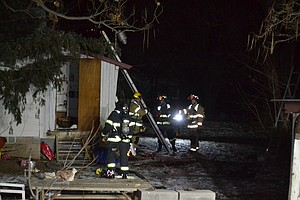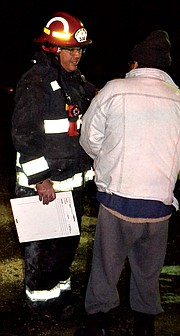 MABTON — A house fire late yesterday on Forsell road, just off Sunnyside Mabton Highway was put out quickly by firefighters, and no one was hurt.
There were not a lot of details about the fire at 3920 Forsell that started somewhere around 6 p.m. Yakima County Fire District No. 5 Grandview station Chief George Saenz said there was not a big blaze.
It started in a space between the house and some sort of lean-to addition, he said. He thought the cause was electrical.
The home owner, Israel Silva, said the fire started from sparks when a family member tried to turn on a yard light.
Silva said the place has two yard lights but that one has not functioned for a long time. When the family member tried to turn it on, sparks started to fly.
Firefighters raced to the scene. One of first messages they received was that the house was ablaze with people who had no exit.
Any people were in the darkened house as the firefighters did their work. It appeared there was more damage from the firefighting than from the fire.
Silva was happy firefighters came as quickly as they did because of his pets.
"I was worried about my kitties," he said.
Several stations brought a dozen fire vehicles and some 20 personnel.
People couldn't drive on Forsell between Waneta Road and the Sunnyside Mabton Highway for a few hours.