Wednesday, September 27, 2017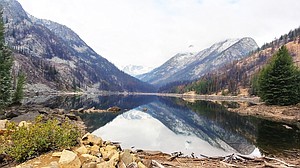 LEAVENWORTH — Due to decreased risk to public the Jack Creek Fire closure area will be reduced to allow access to recreational areas.
Beginning today, the Colchuck Lake, Meadow Creek, Snowall, Blackjack Ridge, Jack Ridge and Trout Lake trails will open, U.S. Forest Department officials said.
Eightmile and Stuart Lake permit zones will remain closed along with the Van Epps and Jack Creek trail between Stuart Pass and the Meadow Creek Junction.
Smoke and active fire may be visible within the fire perimeter until the area receives a season ending event such as wetting rain or significant snow fall, officials said.
Fire managers are continuing to monitor fire activity and assess the area for safety and adjust closures as necessary, officials said.

A recon flight is scheduled to observe fire activity, update the fire perimeter and determine overall fire effects.
Before heading out, hunters and hikers are urged to check on forest closures, campfire bans and current wildfire status at www.fs.usda.gov/okawen or from local ranger stations.
An interactive map showing closure areas for the Forest can be found at http://arcg.is/2vpoLOz.
On the Wenatchee River Ranger District campfires are only allowed in designated campgrounds, campfires are not allowed in dispersed campsites or wilderness areas.
Over the coming days and weeks, the forest will be completing Burned Area Emergency Response assessments on all area fires.
Emergency management, hydrologists, soil scientists and other experts will be assessing the potential for future flooding or debris flow on public lands effected by fires.
The assessments are focused on protecting life, property, water quality and environmental deterioration from immediate possibilities of damage from exposed soil, runoff or possible flooding.