Tuesday, September 26, 2017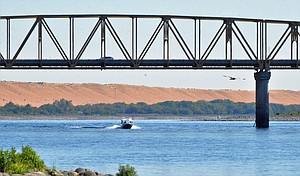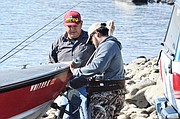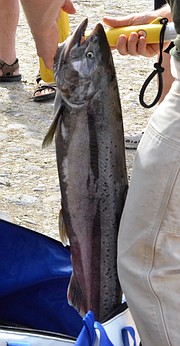 VERNITA BRIDGE — The hunt for Chinook is on and a fishing village, comprised of RVs, travel trailers, boats and tents is popping up upstream of the bridge crossing the Columbia River north of Sunnyside.
It's an annual occurrence from September through October.
Some anglers are taking advantage of the fishing along this particular stretch of the river for the first time; others have been coming for years.
Chili Enriquez, 17, and his father, Ruben Enriquez, 57, of Grandview, were out at the bridge for the first time.
"We were going to go down on the Columbia near Goldendale," Ruben Enriquez said.
A friend of Chili Enriquez's told him they caught their limit here the other day, so the father-son duo decided to check it out.
"We're gonna give it a try," Ruben Enriquez said prior to launching their boat.
He said he fished many years by himself and gave up the sport for a while.
When Chili Enriquez developed a passion for the sport, the two began venturing out together.
"It's my second year," Ruben Enriquez said of fishing for salmon with his son, whom he said has studied fishing like it's an art form.
"I like to fish after school," Chili Enriquez, a Grandview High School student, said.
His usual fishing holes are up and down the Yakima River from Prosser to Granger. But, when he is out with his father, the two like to travel further.
"We like experimenting in different places," Ruben Enriquez said. "My son got me excited about fishing for salmon."
Chili Enriquez said the two were hoping to catch Chinook salmon on Saturday. "We are gonna try tuna and eggs," he said.
He got hooked on fishing because he likes fighting the fish. "I like the nature, too," he said.
When not on the river, Chili Enriquez said he likes going into the mountains.
Traveling from Missoula, Mont., Fuata Samuela had been at the site a couple days. He made the five-hour trek after hearing about Chinook salmon in the area.
"Yesterday, I had a 20-pound salmon," he said. "That would seem like a state record where I come from."
Spending time on the water is enjoyable for the outdoorsman, but he said the wildlife ashore — the anglers — can be entertaining.
"There are some serious people here, people who want to be on the water early," Samuela said. "I nearly saw some get in a fistfight this morning because a couple trucks got stuck on the launch."
The launches here aren't ideal.
The water rises and falls as it's let out of dams, creating soft spots in the river rock making up "ramps."
The Enriquez's truck got stuck after they launched their boat, and Samuela's friends assisted them in getting out of a rut.
Salmon aren't the only prey for the anglers.
Joe Tabor of Richland ventures out regularly, sinking his line for squawfish — officially called pikeminnows by the state.
He does so in the interest in helping salmon on the river, and to make a couple bucks.
"August and September are my favorite months," Tabor said. "I like the remote location and the structure of the river."
Squawfish are invasive. So, the Department of Fish and Wildlife has developed a program, enticing anglers to assist with the problem.
"The squawfish are threatening the salmon," Tabor said, noting the state pays him for his haul. "They aren't for eating."
Like salmon, the fish like salmon eggs. Tabor also uses crickets.
On Saturday, he brought in 16, but said he has exceeded 200 for the season. For that contribution, the state is paying him $8 per fish.
Being a regular on the river, Tabor said he's glad to help salmon, walleye and bass fishermen.
Bob Ram and Bob Goe of Ephrata are also regulars. Annually, they plan a two-week stay here.
"It's our annual two-week vacation, although we are only staying one week this year," Ram said. "We have a good time.
"This week the fishing wasn't that great, though."
Anglers have been catching salmon as large as 35 pounds. "They are running between 15 and 35 pounds," Goe said.
The men said there are two ways they prefer to take care of their catch — smoking or cooking it on the barbecue.
Anglers often use super baits on downriggers in September and salmon eggs in October to entice the fish.
With some work, Ram said most use jet divers.
"About 90 percent use jet divers," Goe said.
Rods used to catch the fish vary from those purchased at an outfitters store, which retail around $200, to custom rods. A custom rod can cost between $400 and $500, Ram said.
"The great thing about a custom rod is it is made to fit the person.
Roxanne Bryant, Sam Bryant and Paul Wendlandt, all of Cashmere, ended their Saturday each with a limit of two Chinook.
The largest caught by the trio measured 35 inches long and weighed 28 pounds.
"They are nice and pinked up," Sam Bryant said.
Given the condition of the fish, Roxanne Bryant said she planned to vacuum pack, rather than smoke them.
"We will get to eat salmon all winter long," she said.
The trio said they park their trailer at the site at the start of salmon season and return regularly.
"We have done really well the past three days," Roxanne Bryant said, noting the trio caught a dozen fish total on this outing.