Thursday, September 21, 2017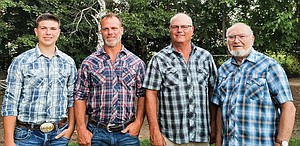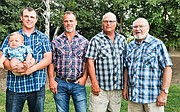 SUNNYSIDE — Wesley Leon Fultz decided to bring his parents home earlier this year, and that gave way to a reunion at which they were able to photograph five generations of the same family.
Some folks around here may remember the patriarch, Wesley Harold Fultz. He was the founder of Sunnyside Optical.
Wesley Harold and his wife moved to Bakersfield, Calif. and lived there for some time. They recently turned 82 and 81.
Wesley Leon and his wife Rhonda, who claim not to be spring chickens at 60, went to California and brought them back to live with them.
"It was time to take care of each other," Wesley Leon said.
After Wesley Harold and his wife returned, family members wanted to visit them, and a family reunion resulted. And photos, of course.
Wesley Harold, his son Wesley Leon, his son Wesley Pike and his son Wesley M. lined up for a four-generation picture.
Then Wesley Harold, Wesley Leon and Wesley Pike lined up again and added Henry Neal and Wyatt Henry to complete five generations.
"It was a lot of fun, all of us getting together," Wesley Harold said. "We are so blessed."