Wednesday, September 13, 2017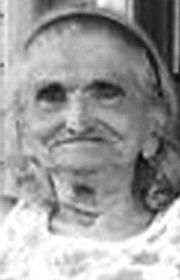 Evelyn Marie Waggener was called home to her Lord and Savior on Sunday, Sept. 10, 2017, while surrounded by her family.
She was born July 18, 1930, to Robert and Olive (Mary) Rooker in Jerome Idaho. She spent her early years there until they moved to Aberdeen, when she was in the seventh grade. She remained in Aberdeen until she graduated high school. She then went to Washington State University where she earned a Bachelor of Arts in education. She was a proud alumnus of W.S.U. and attended reunions regularly.
She started her teaching career in Grandview, where she met and married her husband, Raymond G. Waggener in 1954. They had four children together and raised them all in Grandview.
Evelyn's faith was an important part of her life. Her children recall her reading the Bible to them regularly and praying at the foot of their beds every night. She joined the Assembly of God Church of Grandview at its beginning and remained an active member until its closure. She then began attending the Neighborhood Church in Sunnyside.
After her children were grown and the loss of her husband of 27 years in 1981, Evelyn returned to teaching as a substitute teacher to occupy her time. She valued all her students and considered them like family, as well as her family in Christ.
She also loved taking family trips with her children. She went to places like the Grand Canyon, Yellowstone, Mt. Rushmore, Chimney Rock and the ocean many times. She also took a trip back to Jerome with each of her children to reminisce of her childhood and visit relatives.
She also enjoyed taking pictures. Whenever there was a gathering of any kind, there was Evelyn with her camera. She loved to share them later with everyone around her.
In her later years, she moved to Sun Terrace in Sunnyside and made many new dear friends who became like family to her.
She was preceded in death by her parents and her husband Raymond.
She is survived by her children: Jim (Sirinun) Waggener of Richland, Janie (Eddie) Goolsby of Cheney, Dan (Maree) Waggener of Spokane and Helen (Marvin) Trusley of Grandview. She is also survived by 10 grandchildren: Stephanie Waggener, Crystal (Jeff) Balmes, Jason Goolsby, Melissa Goolsby, James (Dana) Waggener, Dessie Waggener, Daniel Waggener, Billy Trusley, Brandy (Brian) Davis and Courtney Trusley; as well as seven great-grandchildren: Hailey, Ayden and Jordyn Balmes; Taylor and Alaina Waggener; and James and Skyler Davis.
Viewing will be from 2 to 6 p.m. Wednesday. Sept. 13, at Smith Funeral Home in Sunnyside.
Services will be 12:30 p.m. Thursday Sept. 14 at the Neighborhood Church of Sunnyside. She will then be laid to rest next to her beloved at East Prosser Cemetery.
In lieu of flowers, cash donations can be made to the Hospice Benefit Shop (HoBS), 612 Fifth Street in Prosser, WA.
Those wishing to sign Evelyn's online memorial book may do so at www.funeralhomesmith.com.
Smith Funeral Home in care of arrangements.