Tuesday, September 12, 2017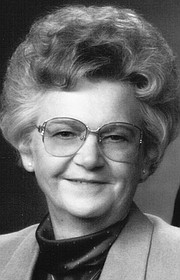 Leta M. Syria, 92, a longtime Sunnyside resident, died Friday, Sept. 1, 2017. in Columbus, Mont.
Leta M. Syria was born Aug. 12, 1925, in Sunnyside, the daughter of Walter and Josie (Cecil) Dopps. She spent her early years and received her education in Sunnyside, graduating from Sunnyside High School. She then attended Washington State University for one year and then returned to Sunnyside.

On March 16, 1947, she married Louis W. Syria at the United Methodist Church in Sunnyside. Following their marriage, they made their home in Sunnyside where she and her husband farmed. Her husband Louis died in December 1996.
She continued to make her home in Sunnyside until November 2015, when she moved to Montana to be near her son Harold Syria.
he was a member of the Sunnyside United Methodist Church, Novella Club and the Children's Orthopedic Guild.
She is survived by two children, Harold Syria of Reed Point, Mont., and Louanne Stiltner and husband Scott of West Richland, three grandchildren Michelle, Lisa and Jennifer and six great-grandchildren.
She is preceded in death by her parents, husband Louis W. Syria, grandson Timothy and a sister, Jo Carlyle.
Viewing and visitation will be from 2–8 p.m. Friday, Sept. 15, 2017, at the Smith Funeral Home Sunnyside. Funeral services will be at 10 a.m. on Saturday, Sept. 16, 2017, at the Chapel of the Smith Funeral Home, Sunnyside.
Burial will follow at Lower Valley Memorial Gardens, Sunnyside.
Those wishing to sign her online memorial may do so at funeralhomesmith.com.
Smith Funeral Homes in care of arrangements.