Friday, September 8, 2017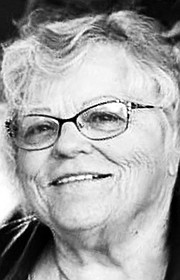 Patricia "Pat" Fern Hull, 76, of Sunnyside, passed away on Sept. 4, 2017.
Patricia was born in Texarkana, Ark., on Nov. 29, 1940. She graduated from Texarkana High School and received her teaching certificate from Central Washington University, as well as a Master's Degree of Education from City University.
Patricia worked as a teacher in the Sunnyside School District for 37 years.

She enjoyed reading, watching football games (go Hawks!), and playing card games with friends and family. She was very involved in her church where she served as an elder for many years, sang in the choir, and participated in weekly prayer meetings. She was also involved in Eastern Star, Novella, Alpha Delta Kappa, PEO, the Zillah Community Choir, and Sunnyside Kiwanis.
Patricia is survived by her sister, Carolyn Sue Thomas Lesh (John); her brother, Laroy Thomas (Jane); her nieces and nephews; and other family and friends.
Patricia is preceded in death by her mother and father, Roy Thomas and Nina Thomas Miller, as well as her husband, Raymond Hull.
In lieu of flowers, memorial donations may be given to Sunnyside Presbyterian Church's Memorial Fund, designated for its music program.
Viewing and visitation will be held from 3 to 7 p.m. Friday, Sept. 8, 2017 at Smith Funeral Home in Sunnyside.
A graveside service will take place at 10 a.m. Saturday, Sept. 9, 2017 at Lower Valley Memorial Gardens in Sunnyside, followed by a memorial service at 2 p.m. at the Sunnyside Presbyterian Church. A reception will follow at the church hall.
Those wishing to sign Pat's online memorial book may do so at www.funeralhomesmith.com.
Smith Funeral Homes in care of arrangements.