Wednesday, September 6, 2017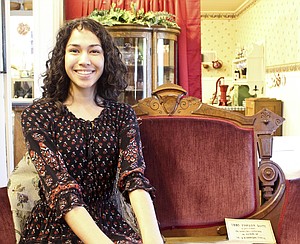 SUNNYSIDE — Street safety is a huge deal for a Miss Sunnyside candidate who once was hit by a car.
"I was nine when I got hit by a car and it messed up my left leg," Gina Lopez, one of 11 girls vying for Miss Sunnyside, said.
If selected as the city ambassador, she said her community service project will center on street safety, bike safety and how to watch out for cars while riding and walking around town.
"I want to encourage kids to wear helmets and to have lights on their bicycles," she said.
The daughter of Georina and Margrito Lopez, she is one of three children. She has an older sister, Itzel, 21, and a brother Mario, 12.
The Sunnyside High School junior is active in Link Crews. She plans to join Key Club this school year. She hopes to also join leadership club. I want to help with school events," she said.
Following high school, she wants to attend Washington State University, with a goal of becoming a dentist.
"I have always been impressed with the dentist office and his tools, she said, "Or maybe an engineer. I like building things too," she said.
Lopez, who plans to perform a monologue for the pageant on Sept. 16, decided to run for Miss Sunnyside to have more chances to volunteer in the community.
"I'd like the idea of being a real role model for kids," Lopez said.
One of the best lessons she has learned while undergoing pageant training is the need to be organize her time.
"I'm learning to work with a schedule and organize my time," she said.
She is sponsored by Lower Valley Fitness Club and Mom's Candied Apples.