Wednesday, September 6, 2017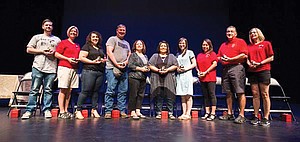 SUNNYSIDE — School district staff who made positive impressions on their co-workers were honored at the all-staff welcome back to school ceremonies Aug. 25.
Named the 2017 Golden Apple winners were Tyler Scherer, Suzie Rodhe, Aurora Nunez-Torres, Jeremy Hazzard, Sylvia Ramos, Liza Borrego, Soledad Martinez, Cecilia Soliman, Pete Marquez and Darla Van Corbach, during the "Welcome Back to Staff" ceremony.
Scherer of Sierra Vista Middle School was selected as Support Staff of the Year.
In his nomination, Scherer was described as one of the hardest working staffers in the building. He spends time listening and offering suggestions to help students improve behavior. Scherer is a school Security Liaison.
Suzie Rodhe of Sun Valley Elementary was named Specialist of the Year.
Rodhe uses her position as an Intervention Specialist to not only help students but to play an important role in supporting the work of teachers.
Aurora Nunez-Torres of Sierra Vista Middle School is Para-Educator of the Year.
She works with at-risk youth who know little English and struggle in reading and math. Nunez-Torres reaches out to them and shows they are cared about, according school principal Julie Perez who nominated her for the Golden Apple.
"She pushes students to succeed by assisting them in understanding core content and encouraging them with a positive attitude and working closely with the teacher to provide the best instruction possible," Perez said.
Jeremy Hazzard, district maintenance and facilities director was chosen Administrator of the Year.
"During the extreme winter, Jeremy and his crew went above and beyond many times to ensure the safety of our staff and students by plowing parking lots and sidewalks before anyone arrived," Director of Finance Jeff Loe wrote in a nomination.
Loe said his efforts included working Sundays and very early mornings.
"This year, the grounds crew took on additional duties in preparing the football field for games. Hazzard went above and beyond and spearheaded the effort to paint the end zones for the homecoming game to great response from players and fans. His leadership shows through the condition of each of our school buildings and how well they are maintained," Loe said.
The "Office Staff of the Year" honor goes to Sun Valley Elementary Team - Liza Borrego, Sylvia Rocha, and Soledad Martinez
Sun Valley Elementary Principal Jeri Paulakis, described her team as an "office professionals (who) has created a positive and welcoming environment in their school building.
"They have taken the initiative to ensure a secretary PLC takes place almost weekly so office operations run smoothly. Though this past year saw not one, but two office disruptions the required moved desks, files, and the need for construction, they continued to be inviting and welcoming to parents.
"I am happy to be on this team with them." 
Elementary Teacher of the Year went to Cecilia Soliman of Chief Kamiakin Elementary.
She was described as a person sets high expectations and goals for students and believes they can all achieve them.
"This person has a student-led classroom where students learn to be independent, take on responsibilities and are self-sufficient," her nominators Rosie Kranz, Alexa Rogers, and Angelica Madrigal said in a nomination letter they co-wrote. "She goes out of the way to make students feel safe and enjoy her day learning while experiencing fun, informative subjects, and projects."
Pete Marquez of Sunnyside High School was named Secondary Teacher of the Year.
Described as an amazing person with high energy levels and a positive attitude, Marquez was praised for his dedication and hours spent creating student-driven high school activities.
He was commended for his effort to create a culture of school spirit and pride. His nomination letter praised him also for his weeknights and weekend hours helping students finish their work.
"This person is very popular among students, before and after school and at lunch, their classroom is always crowded with students who need a safe place," Karen Hutchinson said. 
Secondary Teacher of the Year was presented to Darla Van Corbach of Harrison Middle School based on her dedication to a rigorous and high-caliber education.
Van Corbach is available for additional assistance "…before and after school and on the weekends to ensure students are provided with the encouragement they need to be successful," said nominators Gail Dodd, Sandra Leyva and Nicole Walker. They commended her for work with students in Science Club, Science Fair, Math Club, Robotics, and MESA, on a state, regional, and national level.