Tuesday, September 5, 2017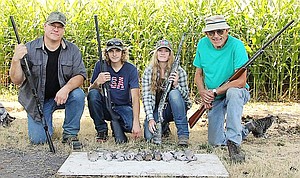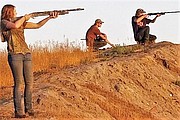 SUNNYSIDE — One local family is among the hunters aiming for the skies just outside city limits.
Friday was the start of dove hunting season, Elizabeth Osborn said.
Her family is known for its enjoyment of shooting prey and storing it as a means of providing protein without resorting to shopping.
The Osborns live a traditional lifestyle in that manner, Osborn said.
She and her husband, Huston Osborn, purchased their property on Washout Road in the early 1990s. They chose the property because it's located in the county, where they could hunt without imposing on their neighbors.
In recent years, the city's limits have come closer to their quiet piece of land and two schools were built nearby, Osborn said.
"The town encroached on us," she said. "We didn't encroach on the town."
As a result of the schools being built and city limits being expanded, there have been concerned calls to law enforcement when the family has been hunting or target practicing, Osborn said.
She wants people to be mindful of what they are actually hearing. When there are gunshots in the county, it is likely someone with the right to fire their guns for target practice or hunting.
"Pay attention to the shot patterns and sounds," Osborn said.
She said a shotgun can only be fired three times in succession and they don't sound the same as a handgun. "Rifles also sound different," she said.
Dove season is just the start for hunters. It lasts through October. Deer season begins Oct. 14, and other birds can be hunted beginning Oct. 21.
Although the Osborns don't hunt deer locally, they do hunt pheasant, quail, duck and geese on their property. The season for different birds can last until January for some, Osborn said.
Olen Osborn, 21, Emery Osborn, 18, Amarisah Osborn, 17, as well as Huston Osborn and "Grandpa" Lynn Emery all bagged their first doves Friday.
"I like hunting doves because they have good meat and you can't buy it," Olen Osborn said.
The family bagged 39 Eurasian doves and 28 mourning doves Friday.
"There isn't really an end to the season for Eurasians," Elizabeth
Osborn said. "They have been pushing out native mourning doves, so there's no limit."
"I've been hunting since before I had my license — I was always tagging along with my dad," Olen Osborn said.
Emery Osborn did as well.
"It's something fun to do with my family and to practice my Second Amendment rights," he said.
Doves, Emery Osborn admits, are more difficult to hit because of the speed at which they can fly.
"We waste a lot of ammo," he said.