Tuesday, September 5, 2017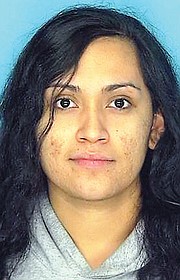 SUNNYSIDE — A woman suspected of assault is wanted by police.
The Sunnyside Police Department is looking for Lourdes Gutierrez, 24, after investigating a reported weapons offense just after 4 a.m. Thursday.
The incident was reported at 410 W. South Hill Road, and police believe it was a domestic violence assault upon Ricardo Rodriguez, 27, Cmdr. Scott Bailey said.
Rodriguez was found at the home, suffering from knife wounds when police arrived, Bailey said.
He said the two wounds were non-life threatening, and Rodriguez was transported to Sunnyside Community Hospital via ambulance. Rodriguez was treated and released, Bailey said.
Gutierrez is described as 5-feet, 6-inches tall. She weighs approximately 150 pounds, has black hair and brown eyes.
She is wanted for felony assault, Bailey said.
Anyone with information about Gutierrez's whereabouts is urged to call the Police Department at 509-836-6200.