Tuesday, September 5, 2017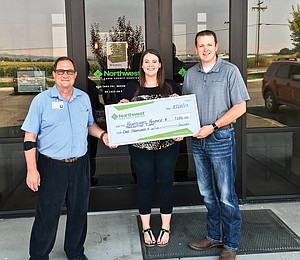 SUNNYSIDE — Giving its support to local hospice programs is just one of the ways Northwest Farm Credit Services gives back to communities it services.
Heartlinks Hospice and Palliative Care, headquartered in Sunnyside, recently was presented with a $1,000 Northwest Farm Credit Services Rural Community Grant.
"On behalf of Heartlinks Hospice and Palliative Care, I say 'thank you' to Northwest Farm Credit Services for awarding us a Rural Community Grant," Hospice Development Director Shelby Wheeler said.
Wheeler said the grant will help the agency provide expert guidance to all who need it, not just to those who can afford it.
"We thank Northwest Farm Credit Services for considering the financial support of patients, families, and friends, which will allow them to focus on what is most important to them: spending time together, sharing memories, finding peace and caring for one another," Wheeler said.
Northwest FCS is committed to helping rural communities succeed. In 2017, Northwest Farm Credit Services has committed $156,000 to 115 projects in rural communities across Idaho, Montana, Oregon and Washington. Since the program's inception in 2007, it has awarded grants totaling more than $1.36 million.
The next rural grant deadline is Oct. 1. Organizations seeking support for rural project can visit northwestfcs.com/Stewardship/Rural-Communities for an application.