Tuesday, September 5, 2017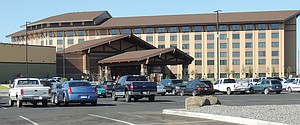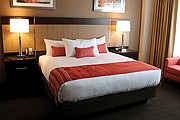 TOPPENISH — Competitiveness was the over-riding reason Legends Casino officials decided to add hotel to their operation.
"The hotel enables us to reach beyond our local market to guests who are looking for a longer stay after a two to four hour drive," General Manager Letisha Peterson said.
"Ultimately, it positions Legends Casino Hotel as a destination versus a locals only venue. We're excited to share all that we love about the Yakima Valley with our guests."
The hotel is only the first part of the renovation program. A large conference center is on is way.
Adding a hotel and meeting space and expanding and renovating the casino, places Legends on par with top casino properties.
"The goal was to offer a luxury hotel and expanded amenities to guests, and based on the feedback we've received, that's happening," Peterson said.
Peterson noted meeting planners for companies will have at least six meeting spaces, seating anywhere from 20-45 people. 
The conference center, with 10,000 square feet of space, will be part of an upcoming phase in the renovation.
"We're already discussing opportunities with meeting planners working on conferences and trade shows scheduled for 2018," Peterson said.
She noted that Yakima Valley Tourism has done a "great job" sharing the agritourism and outdoor opportunities available to potential visitors
"Our new hotel will provide guests interested in exploring what the valley has to offer a place to not only stay but play and dine as well," she said.
Peterson said Legends officials anticipated adding more than 200 jobs to the casino hotel by the time the project is complete. Legends is already one of the valley's leading employers, with around 600 workers.
"We're still hiring, and we encourage our community to check out our website or stop by Human Resources and apply," Peterson said.
Person said. "One of our greatest accomplishments in expanding will be to add hundreds of jobs for our community by the end of this project."
To meet the new growth of visitors, the buffet menu has been expanded to include breakfast. On Thursdays, Fridays and Saturdays there is a new late night menu.
The Poker Room has expanded, and slot machines are being upgraded to increase opportunities for Legends Rewards members.
The luxury hotel has received high ratings from its guests on Google, TripAdvisor and Facebook.
"We're very proud of the attention to detail that went into each selection for the hotel, from the accessible pool to the furnishings to the Yakama Nation Cultural display in our lobby,"
The hotel, which opened in February, offers 200 guest room and suites on its six floors. It is a contemporary building with Native American accents.
Amenities at the hotel include valet parking, wi-fi, Indoor pool, hot tub and fitness center. There are pet friendly rooms on the first floor.
In addition to new full-time jobs, the $90 million renovation has brought numerous temporary jobs to valley construction workers. The lead contractor was Sevigny Construction of Zillah.
"When we started the expansion, we listened to our valued guests, toured the casino properties and developed a list of features and conveniences to enhance our guests' experiences," Peterson said.