Friday, September 1, 2017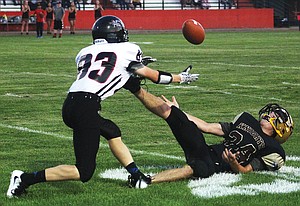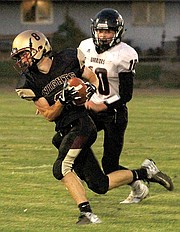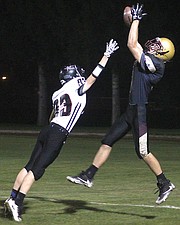 GRANGER — The Sunnyside Christian Knights football team came home last night with a big season-opening win over Almira/Coulee-Hartline.
The Knights notched a come-from-behind win over the Warriors, 34-20.
Earlier this week, the Knights were ranked No. 5 and the Warriors No. 3 in the Associated Press' state 1B football poll.
The Warriors led 20-12 at halftime, before giving up 22 unanswered points in the second half.
"They just executed better in the second half," Warrior coach Brandon Walsh said of the Knights. "We just kind of ran out of gas."
Walsh said his team came into the game knowing it would be a tough contest between two of the state's top-ranked 8-man football teams.
"We had to block a little better, execute better and tackle better" he said. "We were just flat in the second half."
At the same time, Walsh credited the Knights with an outstanding game plan.
"They are a good football team," he said. "They are going to go far."
Sunnyside Christian coach Jeremy Thomas said he was proud of the way his team performed.
He also said they practiced hard and planned some special teams trickery ahead of the gridiron matchup, referring to the four on-side kicks in the game. The Knights came up with the ball 50 percent of the times.
"We really worked hard on special teams," he said.
Thomas said his defensive squad has also been gearing up for the Warriors, who are known for putting a lot of points on the board.
He described his team's defensive attack as a "fist mentality," saying you don't hit with just a finger.
Pleased with his team's performance, he gave them today off.
The Knights will resume practice next week as they prepare to travel to Joseph, Ore.
Thomas said he expects his team to prepare like they are facing Almira/Coulee-Hartline again.
Thomas also credited the team's offensive and defensive lines for making the difference in the game.
"The line did an awesome job," he said.
Box score
Almira/Coulee-Hartline
Rushing — Parker Zappone, 4 carries, 3 yards; Hayden Loomis, 6 carries, 14 yards, 1 touchdown; Maguire Isaak, 18 carries, 21 yards; and Anthony Giuliani, 1 carry, 3 yards. Total, 29 rushes for 441 yards.
Passing — Maguire Isaak, 10 of 23 for 162 yards and 2 touchdowns.
Receiving — Payton Nielson, 2 catches for 5 yards; Hayden Loomis, 4 catches for 75 yards and 1 touchdown; Anthony Giuliani, 1 catch for 25 yards; and Gage Burchill, 3 catches for 57 yards and a touchdown.
Sunnyside Christian
Rushing — Kyler Marsh, 9 carries for 49 yards; Chance Marsh, 22 carries for 52 yards and 3 touchdowns; Luke Dykstra, 6 carries for 44 yards; Luke Wagenaar, 1 carry for 1 yard; Marty Fultz, 1 carry for 0 yards. Total, 39 rushes for 146 yards.
Passing — Chance Marsh, 18 of 34 for 263 yards and 2 touchdowns, Kyler Marsh, 1 for 1 for 27 yards, and Ross Faber, 1 for 1 for 9 yards. Total passing, 20 of 36 for 299 yards.
Receiving — Lane March 9 catches for 129 yards, Tyler Marsh, 5 catches for 113 yards and 1 touchdown, Luke Dykstra, 3 catches for 32 yards, Luke Wagenaar, 2 catches for 14 yards, and Arie Prins, 1 catch for 9 yards.
Scoring
ACH 12 8 0 0 20
SC 6 6 0 0 34