Friday, September 1, 2017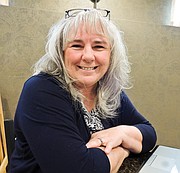 ZILLAH — Community Seeds sound like something agricultural, and it may be in the future, But, for now, it's a budding non-profit organization with a goal of helping adults with disabilities become productive, self-satisfied citizens.
Linda Fox of Zillah is the energy behind this effort. She was introduced to the world of disabled adults by an uncle who had cerebral palsy and died 10 years ago at the age of 59.
Fox became employed by an agency that served disabled adults. You can sense she is appalled by the lives many disabled fall into because they don't know where to turn.
"Adult disabled are being dropped off the face of the planet," Fox said.
That's because most other adults don't know what to do with the disabled adult. Most people shy away from them as employees.
The situation will worsen if no one steps up to help. For the first time in man's history, Fox said, disabled children are outliving their parents.
"We have a crisis in the valley," she said. "A report that came out in August of 2016 revealed that there were then more than 750 adults with disabilities just waiting for appointments with a case manager at the Department of Social and Health Services.
"There is plenty of help for children with disabilities but very little when they become adults," Fox said.
The Community Seeds effort is no little matter. Fox's dream is a Social Enterprise Campus for people with autism and other disabilities.
"The target is the developmentally and intellectually disabled," she said.
This Social Enterprise Campus would serve the entire Yakima Valley. The reason the name includes the word enterprise is that it will be a home for several enterprises that turn a profit for the non-profit.
"We organized ourselves around a business model," Fox said.
She envisions a bakery, a café, an events center, a full service restaurant and even a cat café.
One of Fox's roles is to put together a board of directors that understands how tough this mission will be. The other role is raising $1.5-2 million to make this campus happen.
"Once we get started, we'll be generating our own revenue serving the public," she said.
"There are all kinds of grants we qualify for, and we're very high (on the need list)," she said. "All we need to do is get seed (matching) money."
Fox said this idea is not new. There are enterprises like bakeries and cafes in many places around the country.
What is new is the scope. Those are single enterprise endeavors while the valley's would be a campus of enterprises.
Most of these projects are small, but there is one of 72 acres in Chicago.
"We would be one-third non-disabled employees, one-third disabled
employees and one-third disabled in training," Fox said.
The reason life for disabled adults is precarious is because many employers turn them away for lack of skills.
"Essentially because they are not highly trained," she said. "But, these same employers have said they will hire the disabled if they are trained."