Friday, September 1, 2017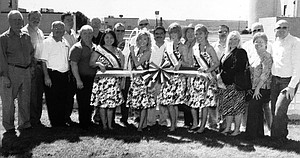 Over the Shoulder
A look back in time from the files of the Sunnyside Daily Sun News and Sunnyside Sun
100 YEARS AGO (1917)
On Sept. 1, American soldiers entered the war in earnest were the headlines in the Sunnyside Sun.
Announced strikes by I.W.W. union members were quelled. Federal troops couldn't find evidence of any unrest in area fields.
90 YEARS AGO (1927)
City fathers were rushing through a new sewer line in anticipation of a new school on the city's south side.
Sunnyside High School boasted a total enrollment of 282 students.
70 YEARS AGO (1947)
A severe lack of housing is causing a serious problem in the community as the city seeks a rapid growth in population. Helping to ease that shortage was the completion of two new duplexes built for the school district, especially for its faculty.
R.J. Stone, owner of the Planter's Hotel, announced he was renting the hotel coffee shop to George Vratos and John Arthur.
60 YEARS AGO (1957)
B&L Lumber opened for business. Bill Walter and Leon Borchardt were owners.
Sunnyside barber Eddy Remington, cut the hair of his youngest customer, a two-month old Allen Lee Razey, who reportedly had a "huge mop of hair."
50 YEARS AGO (1967)
In an odd twist, the City Council agreed to approve an ordinance to allow the sale of beer and liquor on Sunday, but ruled against dancing or the sale of raw milk on the Sabbath.
David Taylor reported he caught a "mess of trout" while on family vacation at Twin Lakes. He caught 32 trout.
Chocolate milk cost 49 cents a half gallon while a half pound of cheese spread sold for 59 cents.
40 YEARS AGO (1977)
D&R Smith Realty, a husband and wife firm opened in town. The couple formerly were employed by Rogers Realty.
30 YEARS AGO (1987)
The grape harvest got under way earlier than normal in the Yakima Valley. By some estimates it was about a week earlier than normal.

20 YEARS AGO (1997)
A faulty water heater ignited and razed a Sunnyside residence, leaving a woman and her three young children homeless.
The local Department of Ecology youth were praised for their efforts to keep area roadways clean in an Daily Sun News editorial by Olaf Elze.
10 YEARS AGO (2007)
2004 Sunnyside High School graduate Frank Kearney was featured on the cover of The American Welding Journal a national industry publication.
Sunnyside School Board approved a $60 million general fund for the coming school year, representing a $2 million increase over the previous year.