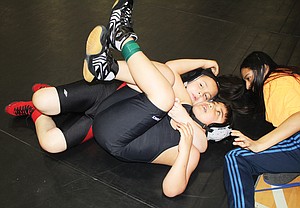 SUNNYSIDE — For anyone who is unable to appreciate all the good in the community, they haven't met the people behind the Little Grapplers wrestling program.
Daniel and Monica Guillen built the program from the ground up, starting with a fledgling idea nearly 15 years ago.
The program was developed to give kids in the community the couple grew up in an opportunity to explore the sport, build character and take part in a safe and healthy activity, Dan Guillen said.
"We teach respect, teamwork and discipline," he said.
For he and his wife, the ultimate goal is to give back to the community while helping families promote their children's well-being.
A former middle school and high school wrestler, Dan Guillen teaches youngsters the sport he loves.
He and his wife like to mentor the youngsters, serving as positive role models.
They encourage parents to follow a code of conduct that helps them to also be positive role models for the children.
Monica Guillen is Dan's support, utilizing her organizational skills to find practice venues and keep all the behind-the-scenes work under control.
"She does stuff people don't even recognize," Dan Guillen said.
The couple aren't seeking recognition for themselves. They volunteer their time and efforts solely to benefit the children in the community.
Their children have long grown out of the program, Dan said.
"We opened the program to any kid interested," he said.
Little Grapplers was the first program to open its doors to girls. Having two daughters, he believes it's important to let girls recognize their own strengths, talent and interests. Guillen said he encouraged his own girls to pursue their own interests and wants to do the same for other girls.
"My girls played basketball," he said. "It was later they decided to wrestle."
It's not just girls and the typical boy who are helped by the program. Guillen said there have been children in the program with disabilities.
"Their parents thought wrestling might benefit them," he said, stating he willingly helped those youngsters with the hope of giving them purpose and focus.
"There aren't any limits," Guillen said of what he hopes to instill in those taking part in the program.
"It's about hard work," Guillen said.
That extends to the work to be done off the mats. Guillen said parents have asked him to speak with a youngster struggling in school.
"I like to encourage them, telling them they need to do well in school so they can take part in the program," he said.
There is an open door policy for parents, as well. Guillen said parents sign a code of conduct, reminding them that their behaviors reflect on the community. He said the youngsters see their parents and will model them.
The code of conduct holds the parents accountable.
"We all represent Sunnyside," Guillen said.
As youngsters between 5 and 14-years-old grow through the program, they are also better prepared for school athletic programs.
"We are a feeder program for the middle schools and high school," Guillen said.
The children in the program don't always compete, but it is up to the individual child, he said.
"They aren't forced, but I like to encourage them to compete when they feel ready," Guillen said.
That approach, he said, helps them develop a sense of themselves. It provides them choices, which develops independence and self esteem.
"They need patience and understanding, especially if they are shy," Guillen said.
"You've got to remember why you are there."
Watching children become more confident in themselves, develop a work ethic and learn to respect themselves, as well as others, gives Guillen a sense of pride.
"Who wouldn't want to do that for their hometown and community?" he said, adding he plans to continue the program for as long as he can.