Thursday, October 12, 2017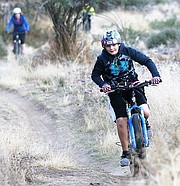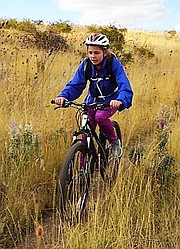 WALLA WALLA — Five Nuclear Goat Heads student cyclists and a coach took part last weekend in the Chinook Cycling Club's Fall MTB Race No. 2 on the Bennington Lake Trail.
The self-timed event was a chance for the cyclists to stay in shape during their off-season, Nuclear Goat Heads organizer Jenny Hare said.
Blaze "Rotten" Hoffman has accumulated 184 points in the fall series, taking part in his second race of the MTB series. He had a seventh-place finish in the race for 84 points in the beginning men's division.
Mason "Husky Boy" Brown, also in his second race of the series, is third in the series, placing 11th. He has 171 points overall.
Danny "Sloth II" Hallman is fourth with a ninth-place finish and cumulative 170 points.
Matthew "Sloth I" Johnson was 10th in the race, but didn't compete in the first one. He has 81 points in the series.
The lone girl, Morgan "Nitrous Unicorn" Brown is second in the beginner women's division, having finished third Sunday and second in the first race for a total of 186 points.
Coach Shawn "Wrong Way" Brown is sixth in the Sport-Men class with a ninth and seventh-place finish in the two races for 160 points.
The next race is at Chamna Natural Reserve in Richland on Oct. 21.