Wednesday, October 4, 2017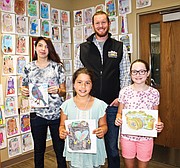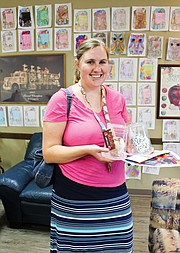 SUNNYSIDE — Hundreds of color sheets flooded the City community center last week pronouncing the end of a two-weeks "Welcome back to School" coloring contest, hosted by the Parks and Recreation Department.
"We had so many color sheets, from students and teachers we were able to paper two walls of the center lobby, said programs director Lander Grow.
Grow announced the coloring contest in mid-September with the hope of having people come visit the center, which they did.
However, Grow said, most of his contestants colored their sheets in their classrooms.
When the sheets arrived the last day of the contest, Sept. 22, they came in thick envelopes, Grow said. He and his office assistant started papering the Community Center lobby with the artistry of contestants from first to 12th-grade, with a special category for teachers.
"I'm very pleased with the response," Grow said.
The winners in the elementary, middle school and high school divisions were awarded gift certificates and prizes from Mom's Candy Apples, State Farm Insurance, Columbia Bank and Ace Hardware.
Grow is now working on a Halloween coloring contest.