Wednesday, November 29, 2017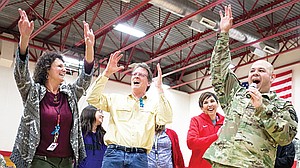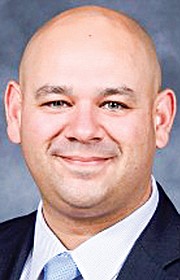 SUNNYSIDE — A local man, named as a finalist for the Okanogan School District superintendent post, is excited about the opportunity to head north.
Joseph "Joey" Castilleja, 37, is one of three finalists to replace the retiring Richard Johnson in Okanogan.
Currently the principal of White Swan Middle/High School, Castilleja sees Okanogan as a good fit, not just for him, but his family.
"We love the area," he said of the Okanogan. "When the position opened up, we took a weekend and visited. We had breakfast in the community and could really picture ourselves there. It's not just Joey Castilleja. It was a family decision."
Castilleja and his wife, Sherry, have three children — Mya in sixth-grade, Alyssa in fourth and Jayson in first. Sherry Castilleja is the secretary at Washington Elementary School in Sunnyside.
Castilleja grew up in Zillah and joined the military, which eventually led him to the Troops to Teachers program, not the traditional route taken by school administrators.
"I started out teaching in Manson and ended in Sunnyside," he said.
Then, Castilleja was selected as the "turnaround principal," hired to improve graduation rates in White Swan.
Castilleja was deployed to Iraq and Afghanistan, and is in his 20th year in the Army National Guard. His love of music transcends his career in education and his service in the military. And, he said, it provides a connection to students and staff.
"I lead a double life," he said, noting that blending traditional education with military life provides an "interesting twist" that opens the door for building strong relationships.
"I've served in several military bands," he said. "And I'm currently in the 133rd Army Band in Tacoma."
But it's not the formal military band full of pomp and circumstance that people often think of.
"My main assignment is as a guitarist and vocalist in Full Metal Racket," he said.
The rock'n'roll band has performed in schools across the Pacific Northwest and even before the kickoff of Seattle Seahawks games. He's even performed in his own school district.
Staff Sgt. Castilleja, as he is formally referred to in the military, is one of nine members of the band, based at Camp Murray.
"It's fun," he said. "My students get to see me in a different way, a whole different person."
But parents and school district employees, too, "get a kick out of seeing me in that element," he said. "They get to see I'm human and have my own passions."
That has helped Castilleja make inroads with struggling students.
"I've used it to open conversations with kids about having a dream and going for it," he said.
Music has also been a motivator to help students see school can be fun, he said. And it has helped staff and his community love their school district.
"That's really the flavor of who I am as a leader," he said.
And he thinks that will play well in Okanogan, if he's selected as the district's new leader.
"I'm really excited about this possibility," he said. "This is the only application I have out there — I can see the transition being very positive."
But taking on the lead role there won't be easy.
The retiring superintendent has some pretty big shoes to fill, he said.
"In superintendent school, they tell you the life expectancy for a superintendent assignment is 3-5 years," he said.
But Johnson has led the Okanogan district since July 1, 1988.
At 29 years, he's one of the longest serving superintendents in the state.
"On one hand, it's going to be a challenge to fill someone like that's shoes," he said. "On the other, it says something about the community."