Tuesday, November 21, 2017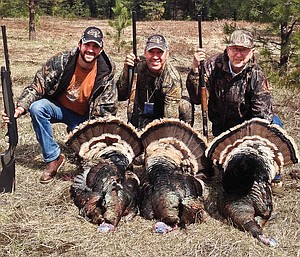 So you got a jump on Thanksgiving with a turkey from the boss or the store last week.
The Willie Van de Graaf family has you beat by months.
Each spring, Willie, 90, goes up to Northeastern Washington with his son and grandson to hunt wild turkey.
It was son Bill, 60, who started this tradition more than 40 years ago. Now it's a really special hunt because Casey, 30, goes too.
The reasons the Van de Graafs get their turkey in spring are because "the weather's nice, things are greening up, and there's not much else to do. It's just a beautiful time of the year."
Another good reason is that hunters in Eastern Washington are allowed to bag two toms each. Only one is allowed in Western Washington, and the Van de Graafs do like their turkey..
"My wife makes a very good turkey pot pie," Bill Van de Graaf said.
For Thanksgiving, the Van de Graafs all get together at one place and enjoy deep-fried turkey.
"It tastes just like a turkey you buy in a store," Bill Van de Graaf said. "It doesn't have a gamey taste."
It also has not been fixed up like a Butterball. You have to marinate it or add the flavors you want some other way.
Bill Van de Graaf has really learned to hunt turkeys. He's brought at least one home each of the last 20-plus years. He admits he failed a few times in the early years.
He said it wasn't easy to learn to hunt turkeys. In addition to a good shotgun, he had to be an actor and musician.
"For my first turkey, I got an instructional cassette and practiced my turkey calls," he said.
Once he had the basics down, friends in the Klickitat area pointed him up a hill and said go get 'em.
"I walked up the hill and sat behind a tree," Bill said. "I could hear gobbling. So I started making my call. One of them came to me, and I got him."
Today, the excursion is not just about bagging turkeys. It's about grandpa, pa and son spending time together, doing something they all enjoy.
They stay in wall tents. Bill's is 12 feet by 14 feet with a wood stove. He puts down some old carpet for a floor and "it's very comfortable."
The wall tent allows the Van de Graafs to sleep near the action. They wake before the dawn and are in the forest while it's still dark.
"You listen to the woods wake up," Bill Van de Graaf said. "The birds start singing. You don't think there are turkeys around, and then one gobbles."
There is an abundance of turkeys in the Colville area, Bill Van de Graaf said, because they are trapped in areas where they are a nuisance and transplanted in Northeastern Washington.
The Van de Graafs find the hunt to be fun. It's not as if the birds just line up for them.
"These turkeys are really smart, very suspicious of everything," Bill said. "If they sense something is not right, they're gone. These turkeys fly like pheasants, and you can't outrun them."
Unlike Butterballs, these turkeys are not plump. The biggest adult toms weigh in the 20-pound range. The biggest Bill ever bagged was 22 pounds.
These smart turkeys stay in or near the forest for security. They fly strategically.
"You lose them fast as they fly through the trees," Bill said.
You're not allowed to hunt female turkeys, Van de Graaf said. So the first thing you must do is find and identify them on the ground.
"Once they take off, you can't tell the difference," Van de Graaf said.
If you can get close enough, you'll notice the tom has sort of a beard hanging from the chest. It looks like horse hair, Van de Graaf said.
About 5 percent of females have this beard, but it's shorter compared to the male's beard. One way to identify a tom is by attracting him with your female mating call.
"You have to convince them you're a girl turkey looking for love," Van de Graaf said.
Once the tom is convinced you are the girl of his dreams, he'll start showing off. His tail will fan out in beautiful colors, his head will turn a powder blue and he'll drag the tips of his wings on the ground.
But you have to be ready to pounce. Once he realizes you won't really make a good girlfriend, he'll bolt for the trees.