Tuesday, November 14, 2017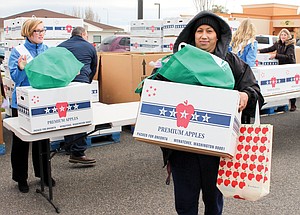 SUNNYSIDE — Quail Lane, near the Northwest West Farm Credit offices, was lined with cars from Allen Road to Best Western Monday morning as people gathered for the promise of a free turkey.
Lower Yakima Valley residents began lining up near the parking lot of the financial institution at 9:30 a.m. to receive a frozen turkey and a box of fresh produce and a gallon of milk, thanks to the efforts of Second Harvest with the aid of Dairy Farmers of Washington.
"We are very pleased with the turnout," Dairy Farmers partnership development director Jeff Steele said.
For Rosa Chavez of Toppenish, a mother of five children, the extra food is coming at a good time.
"It is always a little hard to keep up with meals this time of year," she said.
The 20-pound turkey, plus potatoes, carrots and apples, will go a long way," Chavez said.
For Priscilla Munguia of Toppenish, standing in the long line in the cold was an errand of mercy.
"I'm here to help a family member who couldn't make it here today," she said.
Munguia said she heard about the turkey give-away from her sister.
"I just want to be able to share with my family," she said.
The plan was to hand out 250 meals to area families at one of three such give-aways happening in the valley this week.
Today, another 250 turkeys will be given to families in Yakima at the Henry Beauchamp Community Center, and on Saturday, more than 2,000 turkeys will be distributed at the Benton-Franklin fairgrounds.