Monday, November 13, 2017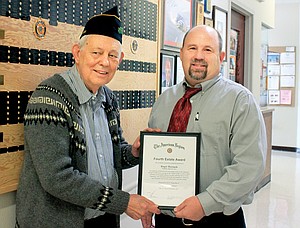 GRANDVIEW — The publisher of The Daily Sun has been named the 2017 recipient of the Fourth Estate Award.
During the annual Veterans Day Brunch, the Fred E. Hayes Post 57 of The American Legion presented the Fourth Estate Award to Roger Harnack, 50, of Sunnyside.
The Legion's Fourth Estate Award is presented to news or media outlets, reporters or editor-publishers for their work in America's free press or media.
Often, such awards are presented in the cases of news stories involving veterans, military or national security.
"Our members chose Mr. Harnack for his leadership at the Daily Sun News as well as his thoughtful and insightful columns on topics of interest to our local communities, our state and our nation," said post 1st Vice Commander Dudley Brown. "We have also appreciated the support his newspaper has given to our Post and members of the larger veteran population."
Prior to being named publisher of The Daily Sun two years ago, Harnack has served as publisher of The Omak-Okanogan County Chronicle and Southwest Iowa Publishing Co.
He also previously served as the Pacific Bureau chief for Stars and Stripes in Tokyo, Japan.
The Pacific edition of Stars and Stripes is a daily newspaper distributed at U.S. military bases around the Pacific Rim.
This is the third time in recent years The Daily Sun and or staff members has received this award from the Grandview Post.