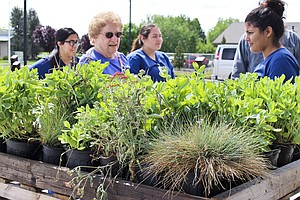 SUNNYSIDE — Sometimes a well thought out landscape plane doesn't work out as planned.
Take, for example, the use of xeriscaping see in many new construction sites.
The use of drought tolerant plants is practical, but sometimes falls out of favor when people forget that every landscape needs regular maintenance.
For the thrifty and eco-sensitive gardener, the tearing out of native grasses and perennials in favor of the more popular lawns is a financial bonus.
When it was announced that the Sunnyside YV-Tech campus landscape was set to be revamped, long-time welding instructor Tom Dolan decided to rescue the current plants for a sale to benefit the Associated Student Body fund.
On Friday, the welding and nursing students at the 437 Barnard Blvd. campus, not only sold various types of ornamental grasses and yarrow, the students offered to dig up plants from around the campus for their customers.
Among the plants are red tipped grasses, ornamental grasses, succulents and sedums and yarrow.
The current landscape is going to be pulled out and put into lawn, Dolan said.
The original landscape was in the xeriscape-style, which requires little water, but does require some routine upkeep.
While the plants require infrequent watering, mulch is very important to keep weeds and unwanted invasive grasses out.
This past winter, followed by a winds and wet weather combined to create massive amounts of weeds in many gardens.
Mulching can really help bring weeds under control in any garden, Dolan said.
Most xeriscaping plants boast drought-tolerance, but that low-thirst personality develops with age, experts agree.
Dolan recommended keeping the plants well-watered while they're adjusting to their new landscape. Let the plants roots system get well established, before reducing irrigation.
Xeriscaping plants require minimal care once established, which means the design is eco-friendly, but low-maintenance as well.