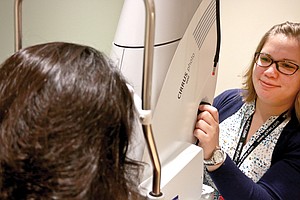 TOPPENISH — "We use our vision for so much, often we take it for granted until something happens," Dr. Stephanie Cooper said.
Cooper is the optometrist at Toppenish Medical Dental Clinic's new optometry clinic.
Adding optometry services for patients of Yakima Valley Farm Workers Clinic in Toppenish is another way of caring for the whole patient, she said.
"Adding optometry is a more comprehensive way to care for our patients," Cooper said. "Eye care is very important to our every day lives.
"In our medical clinic, we treat patients with diabetes, hypertension and arthritis. These are all conditions that also affect the eyes."
Farm Workers' first-ever optometry clinic opened at the Toppenish Medical-Dental Clinic, 510 W. First Ave. It can be reached at 509-865-5600.
The optometric facility is a 2,000 square foot clinic, with four exam rooms, one optometrist and an optician. 
It is part of an overall 17,000 squqre-foot addition completed last summer. That brought the clinic's total to 50,000 square feet, including a new dental department with 17 dental chairs and two surgical procedure rooms.
As for the optometry clinic, Farm Worker officials say growth is anticipated there as well.
"We're starting with one optometrist, but there will be room to grow," Senior Director of Regional Operations, Kelly Duncan said.
Cooper earned her Doctor of Optometry from Pacific University College of Optometry in Forest Grove, Ore.
She completed her clinical training at Southern Arizona VA Health Care System in Tucson, Ariz.
Currently, the optometry clinic is open 8 a.m. to 5 p.m., Monday through Friday, to existing patients of the Toppenish Medical-Dental Clinic.
Services include regular vision checkups as well as treating additional ailments affecting a patient's eyes.
And the optometry clinic has an optician on staff, who helps select frames and lenses that best fit the patient.
"We are thrilled to offer this service to our community," Cooper added.
The optometry clinic continues a year of expansion for Yakima Valley Farm Workers Clinic.
Earlier this spring, it unveiled a new teaching kitchen on its Toppenish campus.
In February, a ribbon-cutting ceremony celebrated the opening of its immediate care clinic in Granger.
In January, it debuted a mobile children's dental clinic.