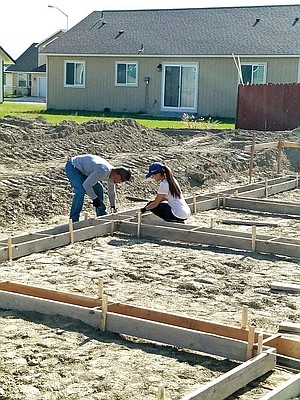 SUNNYSIDE — Building one's own houses is a long process, but if you have problems navigating the financing process, the options of ever being able to build a home may never become a reality.
For a group of lower valley families, with the help of Catholic Charities Housing Services, who never thought owning their own homes, are becoming homeowners through the service's sweat equity program.
For the past year, new houses have been going up rapidly at a housing development on South Hill Road, near Bi-Mart.

"We currently have 17 houses in near stages of completion and we have started four more," Catholic Charities Housing Services pre-purchase counselor Edenia Urenda said.
"This makes 21 homes for families who will have the dream of home ownership come true," Urenda said.
When complete, there will be 38 homes on the development, all built by the families and area contractors. The project is expected to be completed by the end of 2018.
One of these family is the Sarah, and Alex Herrera of Sunnyside, who said to own a home meant everything to the family.
"No only to myself and for my husband and two daughters," Herrera, 38, said.
"We can't not be happier knowing we have reached every family's dream of having our own home, as well as building special memories thought-out the year to come," she said.
Mrs. Herrera said she has dreamt of owning her own home since the birth of her daughter Jazmine, 12 years ago.
"We never thought it would be possible," she said.
"Never in a million years would we have thought we would be building our home from the ground up," Herrera said.
But with the aid of Urenda and the housing services, the family of four, coming closer to being king and queen of their own castle.
The homes being built in the South Hill Subdivisions range in cost, depending on size, from $165,000 to $185,000. Each family, once approved by the United States Department of Agriculture, must put in 30 hours per weeks on the construction of the house.
"They must work or use the help of volunteers, said Urenda.
Herrera said her family's sweat equity "…makes us feel happy and proud knowing even though we have to take time away from our children, we can one day say we put sacrifice and sweat into all for the happiness of our family.".
Herlinda and Martin Alcocer Millan said the opportunity to be a part of the programs meant they were building a foundation.
"We are establishing a future for our family," she said. She said she has dreamed of owning her own home since "…I started to form my family."
"We knew; however, it would be a long time before we could meet that goal happen," she said.
Various factors she said kept her and Martin from purchasing a home: the economy, an inability to obtain loans and a general lack of information.
Which is where Urenda and her team come into the pictures. Working with the family, and standing with them through the purchasing process, was of huge help.
Urenda said the sense of excitement from the families is measured against the time they sacrifice to make it happen.
"They all have a real sense of accomplishment and a level of pride when they open the door of their new home for the first time," she said.
"It still may be months away, " Urenda said, "but it would be worth it to these families."