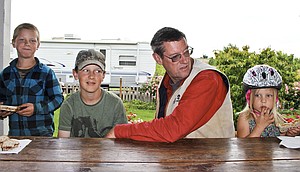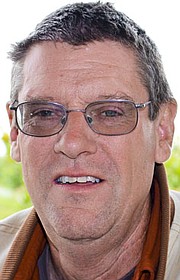 GRANDVIEW — Bill Michener came from a small family, as did his wife, Julie.
"We thought we wanted a small family, too," he said.
And for the first years of their marriages it was small, limited to three kids – a girl and two boys.
Then something happened and the family grew to nine children, ranging in age today from 28 to 3.
This Father's Day, as the operator for Bill's Berry Farm on County Line Road, he is happy to have all his children around, helping with even little chores.
When Michener, 56, comes in for meals, all the children, who are homeschooled, quickly gather around him to share something of what they've been doing. Even it if was just to get one of the Michener's six grandchildren a muffin for a snack.
"Everyone has a job," said Luke, 11. He loves the fork lift, "…but most of us younger ones start out with mowing."
There is plenty on the 70- acre farm that has grown from being an event-oriented venue to being the place to bring families for a day at the farm.
"We do have a lot to mow, from the area around the farm store and parking area to the orchards of apples, cherries, peaches, and pears trees," Michener said. "And the kids all know their jobs."
"We wanted to have a farm business that would be generational, a place where our children could take over in time," said Julie. "We're still short of that goal."
But the idea for a farm where people can come enjoy a hayride, pick their own fresh fruit in season, or hike around the farm has been far more successful than either imagined.
Now, they're working with the children to educate their visitors that strawberries, for example, are ready for four weeks and blueberries have a six-week season.
The children have inherited Bill's love of farming. He started as a seven-year-old boy, driving tractor for his dad.
"I've loved farming ever since," he said.
He now sees in his children that same passion and an affinity for farm equipment. His oldest sons are in ag-related business careers, even though they don't work on the farm currently.
Andrew, a serious 14- year-old, loves machinery and is always tinkering.
"The children love the life," Julie said. "And they love their dad and grandpa.
Eldest daughter Larelle Michener, who is the Prosser Chamber of Commerce executive director, said her dad has had a big influence on her and her siblings.
"One of the things that I appreciate most about my dad now, looking back on our growing up years, was how involved he not only let us be, but 'wanted' us to be, in the farm," Larelle said.
For a time, she oversaw marketing the farm for her parents.
"Growing up on a farm meant that there was always work to be done, and he didn't always have a lot of 'off time' but because we did so many of those things with him, I don't think any of us wish our dad could have a 9-5 job," she said.
Larelle said the time with him and the skills and work ethic he taught have been "…invaluable in my life".
"My dad also shared his hobbies with us over the years. I don't know how many dads take their kids along for their regular recreational activities, but we did it all as a family - skiing, camping, hiking, trap shooting, even working on his 'project car,' a 1958 Willy's Jeep pick-up," she said.
Her father is looking forward to Sunday.
"We'll have a lot of the family here as well as members of our church," he said. "We're holding Sunday services in the park this summer. I really like that."
And it is his faith which is one of Michener's qualities that has endeared him.
"Dad has also faced a lot of challenges on the farm over the years - a profession that is so easily impacted by weather events is not easy to predict," Larelle said.
She said while it's not something he verbalizes a lot, she said his children see "…my dad's faith, and the way he has faced these challenges. That's been a powerful example for us."