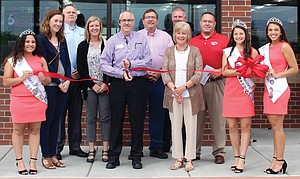 PROSSER — Nearly two dozen residents and local officials turned out yesterday afternoon for the "official" opening of the new Love's Travel Stop.
The business, which features a convenience store, fuel, truck repair, a Carl's Jr. and soon a Holiday Inn Express, will eventually employ 70-75 people, General Manager Curt Butterfield said.
The Prosser Chamber of Commerce, City Council members, city employees, school district representatives and others officially opened the business with a ribbon-cutting ceremony, followed by cake inside the new store at the intersection of Gap and Wine Country roads.
Love's was also opening a new store in Hardin, Mont., at about the same time.
"We're in 40 states, now," Butterfield said. "Our motto is clean places and friendly faces.
"That's one thing we take pride in."
After his short presentation, Butterfield quickly handed a $2,000 check to Prosser School District officials.
"We try to give back to the community," he said.
Mayor Randy Taylor thanked Love's for selecting the community.
"We're so pleased you've come to town," he said.
The mayor said Love's is just one more indication the city is "moving and changing."
He wasn't the only one welcoming the business.
"I just want to say how pleased we are to have you in our community," Prosser Economic Development Association Executive Director Deb Heintz said. "The economic value of Love's buying here is beyond words."
City Councilman Rob Siemens was also happy to see Love's. A retired truck driver with 31 years experience, he said Love's is a mainstay for travelers.
As a truck driver, Siemens said he "loved everyone of them."