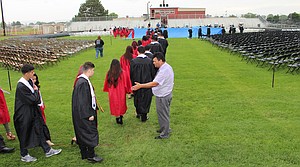 SUNNYSIDE — Like the winter of 2017, the 2016-17 school year just won't quit.
Normally, this week would mark the end of the school year.
But for Sunnyside, Grandview, Granger, Prosser and Zillah students, the last day of school will drag on until the middle of next week.
And the school year could have ended even later had it not been for state waivers allowing districts to forgo making up some snow days.
Granger schools had three snow days waived, Sunnyside four, Prosser five.
Prosser and Zillah's last day is June 14, followed by Grandview on June 15, and Sunnyside and Granger on June 16.
Prosser had the most days to make up, even with waivers, extending the school year by a week.
Mabton School District students' last day is Monday.
Bickleton beat the valley schools — its last day of class was yesterday.
As for what the students will be doing during these final days of school, some will be taking finals and having talent shows.
In Sunnyside, some will enjoy a swim at the city pool.