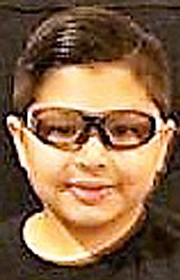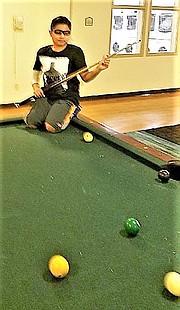 SEATTLE — A Sunnyside Lil Grapplers wrestler is still being treated for a rare blood disease and the wrestling team is hosting a car wash Saturday to help his family.
Nathaniel Wood, 9, is the son of Isabel and Steve "Woody" Wood of Sunnyside.
April 24 the youngster was diagnosed with Severe Aplastic Anemia for which he is being treated at Children's Hospital.
The disease is currently being treated with medications, "Woody" Wood said.
If the treatment is ineffective, doctors told the family Nathaniel will need a bone marrow transplant. "Woody" said the family and doctors hope that isn't necessary.
He said it is unknown specifically how Nathaniel acquired the disease. "It could have been triggered by a virus or infection."
The disease prevents Nathaniel's bone marrow from making its own blood platelets, "Woody" said.
"Nathaniel will be on the medication for about a year," he said.
In the meantime, Nathaniel must stay in Seattle for another 6-8 months. "Woody" has taken a leave of absence from his job and Isabel Wood is working fewer hours, traveling to and from home regularly.
"She has to be the primary bread winner," Woody said of his wife, who is trying to balance her need to be with her oldest child and the need to keep her joy.
The couple also has a 6-year-old who gets to visit his older brother on the weekends, Woody said.
"He hears things and we have to tell him his brother is going to fight hard," Woody said.
He said Nathaniel is handling his circumstances well.
"He's strong and cheerful and that's a plus," Woody said.
It can be difficult being away from home and having limits to where the family can take the 9-year-old. "We can't take him certain places because he could get sick," Woody said.
Nathaniel Wood said it's hard to be away from friends and family, but he is making new friends.
"I like that I get to play pool," he said. "I made a new friend, Miguel, from Seattle... he likes to play basketball," he said.
Getting to meet all the doctors and nurses is like an adventure, the youngster said.
"What's hard is keeping the stress levels down," Woody said.
He said living daily in a small, 4-room space can be difficult. When Nathaniel is in the hospital, the one-room space becomes even more difficult.
"You have to figure out how not to get anxious and stressed or angry," Woody said.
The family learned there is one place to help them make the most of the situation. Ronald McDonald House provides them day passes, allowing them use of the basketball courts and different play areas. The family is able to wash clothing and if they need, use a kitchen there, Woody said.
"I am glad we have it," he said. "We'd love to take him to the arcade down the street, but there is too much potential of Nathaniel getting sick."
Daniel Guillen said proceeds from Saturday's 11 a.m. to 3 p.m. car wash in The Daily Sun's parking lot, 600 S. Sixth Street in Sunnyside, all go to the family to help with travel costs and basic needs, as well as any medical costs not covered by insurance.
"If cars are still arriving, they won't be turned away," he said.
All the supplies for the car wash are being donated by the team.