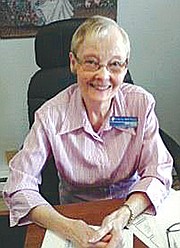 SUNNYSIDE — For those who know her, she is always asking, "How may I serve you?"
Serving others drew Mary Arthur to her career to which she is now reluctantly saying good-bye.
After Aug. 20, the voice of the always "cheerful" Arthur will no longer be asking that question at Prestige Care and Rehabilitation Center of Sunnyside.
The community's longest-serving elder care facility administrator is stepping down after 32 years.
In typical Arthur fashion, she wants little fanfare about her leaving the facility.
"Mary requested we not plan a retirement party," Director of Nursing Services Dana Hilbert said Friday. "We are going to miss her leadership and her sense of professionalism."
Indeed, her leadership has been recognized each step of her career and through each change of elder care holding company's 721 Otis Ave. local location.
Arthur has been recognized by state and national agencies through her deficiency "free" Medicare recertification surveys, Sunnyside's Centers for Medicare and Medicaid "five-star" ratings and lastly her recent "bronze award" from the American health Care Association.
Arthur was first licensed in the state in November 1972.
In February 1985, she and her husband, Neil, relocated to Sunnyside, where she became the nursing home administrator at Hillcrest Manor.
She has been the nursing home administrator in the same building for 32 ½ years, through its many changes and expansions.
The center is currently licensed for 80 beds.
"Mary has led the Sunnyside nursing home employees to provide exceptional quality care fulfilling both short-term rehabilitation and long-term care needs," Hilbert said.
In fact, when it comes to accepting praise for her accolades, she deftly deflects attention from herself to her staff and families.
"It has always been about the residents and their
families and the staff," Prestige Business Manager Cruz Hall said.
Hall, who has worked with Arthur for 17 years, said a large part of Arthur's success comes from her genuine love of people.
"She has been my mentor all these years," Hall said.
Hall met Arthur while she worked as a waitress at the Tillicum Restaurant. She encouraged me to come work for her and after a while, she encouraged me to do more than answer phones and the rest is history," Hall said.
Hall said a part of Arthur's strong character is her dedication to her employees.
"She is always there for the employees."
Both Hall and longtime friend and co-worker Laura Tollefson agree Arthur is also a very giving person.
"She is well-liked by the community. Everyone talks very highly of her, Hall said.
When Arthur adopted the "Eden care" model for Hillcrest Manor residents which provided pets, plants and children to create a more "homelike" environment, the staff was a little nervous.
"Mary just helped us all feel calm and relaxed about each of the changes we went through at the facility," Tollefson said.
She made us see how the programs could lessened the isolation and depression that often is felt when someone left their home.
"She always said this will work for us and for the community," Tollefson said
Tollefson, who has known Arthur since 1974, is certain Arthur is right.

"I worked with Mary since 1974. When she moved to Sunnyside from Seattle, in 1985, I came too," she said.
Arthur believes in being a servant and a steward to folks in need and creating a home where they were comfortable and had their needs met.
"I don't know how many families she has helped or has taught religion education to," Tollefson said.
In past year Arthur has slowed down, and she still definitely is due for a vacation
This past year she underwent hip replacement, and when released from the hospital she immediately took her rehabilitation therapy at – you guessed it- Prestige.
"She said it was the best place for her therapy," Tollefson said
During her 32 years, more than 700,000 days of quality care was provided for the community she loved, Hilbert said.
Arthur has spent her lifetime as an advocate for elder care. She often quipped, that she is now admitting the sons and daughters, who previously admitted their parents.
She provided an example of professionalism and caring for many nursing home administrators throughout the state and mentored many others with her perspective.
"She has always been a champion for the people," Hall said.
"She'll be missed."