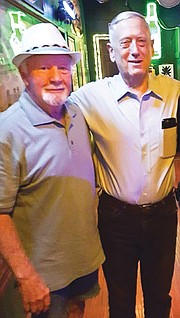 PROSSER — The regular lunch crowd at Bern's Tavern didn't notice the nation's top defense leader enjoying his favorite hamburger and a cold beer alongside them Tuesday.
For most of the lunch hour, a casually dressed U.S. Secretary of Defense James "Mad Dog" Mattis remained just another guy at the tavern known for its handcrafted burgers and a music venue.
Mattis was in the region visiting family; he took time to join some old buddies for lunch downtown, tavern owner Darren Dodgson said, between flipping hamburgers for the Wednesday crowd.
"He was very nice to everyone," Dodgson said, who at first didn't want to talk about his celebrity patron.
Dodgson, who adheres to the bartender adage — "Fred ain't here" — slowly started to discuss the nation's top defense leader's visit with little coaxing.
It was, of course, the talk of the Wednesday lunch crowd, and everyone wanted details.
Apparently, Mattis, who grew up in Richland, has dropped in the local tavern in the past with a group of his Marine buddies.
"We never knew we were entertaining him," Dodgson said.
But apparently Carl Grimes, 81, his father-in-law knew Mattis was scheduled to be at the establishment.
"I got word last week, he might be in town," Grimes said, noting he almost missed his chance to meet the retired general.
"I had just gone home minutes before Mattis, his friends and his secret service men hit town," Grimes said. "I turned around and headed right back to Bern's.
"I have to say, I have never met a more down-to-earth guy. He let us take pictures with him and shook everyone's hands."
Grimes said he called a few of his friends, asking them if they wanted to meet Mattis.
They all came down.
"We had about 12-20 people in there," he said. "It was quite a party."
Grimes said no one talked politics during Mattis' visit.
"We talked old-solder talk, however," he said.
Grimes recalled for Mattis the time he served with Elvis Presley in Germany.
Mattis liked that story, Grimes said. He told Grimes, he'd be telling people that he'd shook the hand of a man who served with Elvis.
"Getting to meet him just made my day," Grimes said.
Tuesday's visit to Bern's isn't the first time he has slipped into a booth here.
Mattis told the lunch crowd he had been there more than once since he retired from the military.
But the most memorable time was when as a young man — he enjoyed his first beer at the Sixth Street tavern.
The general insisted on paying the lunch tab, and left a nice tip, said Grimes' daughter, Carla Dodgson, who now co-owns the tavern with her husband, Darren Dodgson.
"People will recognize him the next time he comes in," she said.
"We hope he comes, again."