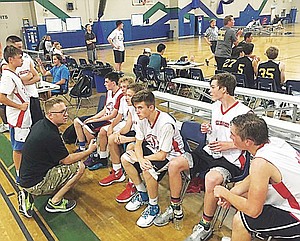 GRANGER — David Morse was looking for a challenge when he was hired as the next Granger High School boys basketball coach.
He came to the right place. Since 2000, the Spartans have played 13 times in the state 1A tournament. His task will be to take them again this year.
Making this an even greater challenge is the fact this will be Morse's first head coaching assignment.
Morse played high school ball for Steve Myers and Steve Elder at Toppenish. He did not play college ball and really had no basketball plans.
Morse graduated from Top-Hi in 1995 but didn't coach until 11 years later. He was an assistant at Riverside Christian from 2006-2010. He assisted at East Valley from 2010-2014. He was at West Valley from 2014-2017.
"My head coach at West Valley told me it was time to become a head coach, and the job at Granger was open," Morse said.
Morse has an AA degree from Yakima Valley Community College in criminal justice and a bachelor's degree in elementary education from Grand Canyon College.
He works in the Toppenish School District pre-school program. His students look up at his 6-1 frame and see a giant.
"I totally love it," he said.
Granger's boys are buying into what Morse is selling. He likes up tempo hoops, and so do they.
"We're going to run every chance we get," he said.
Morse believes his team will have a 10-man rotation. It will be led by 8-9 seniors with experience. The key returners will be 5-8 point guard Joe Solis and 6-1 forward Trevor Smith.
"The summer has gone really well. Now we rest until late fall," Morse said.