Tuesday, January 24, 2017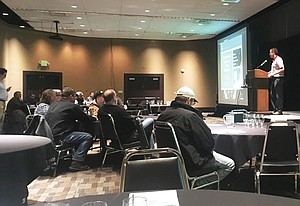 YAKIMA — More than 20 dairy farmers, crop growers and government officials attended a workshop about how manure nutrients improve soil health.
Presenters described how proper application of manure nutrients remain in the root zone to increase crop production, while maintaining groundwater quality.
Participants heard presentations about fertilizer technology, "cropping strategies" and how to manage manure nutrients in a way that doesn't leach into the water profile.
"One aspect of the workshop's foundational approach to soil health focused on nurturing living beneficial micro-organisms — the heartbeat of the soil — that improves soil health throughout the year," G.S. Long Company agronomist Javier Lopez said. "We achieved our goal of having a two-way conversation with participants who braved terrible weather to attend, with plans to continue the dialogue going forward."
DeVries Family Farm Manager, Larry Lowe was one of the workshop attendees.
"Our farm has been proactive in what we do, so many of the topics we already implement," he said. "But it was a good reminder, especially regarding manure management and the importance of good record keeping."
Steve George of the Yakima Dairy Federation said he was impressed that ag-consultants G.S. Long Company took the initiative with the South Yakima Conservation District to organize the workshop.
"The topics were very good with a focus on irrigation water and nutrient management, offering some good insight about how to profile soil by looking below the surface," he said.
"We plan to have more workshops in the future," South Yakima Conservation District livestock nutrient management specialist Laurie Crowe said. "Processes and procedures are ongoing, from dairy nutrient management plan record keeping to providing new information about technologies."
Call Crowe at 509-829-9025 about future workshops.