Wednesday, December 27, 2017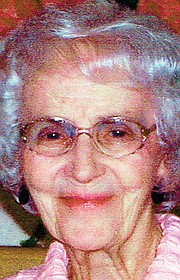 Ella Elizabeth McCall Harsh was born April 24, 1920, in Harrington, to Edward and Anna Marie McCall. After living in several Washington cities, they moved their family to farm in the Whitstran area when Ella was 13-years-old in 1933. She went to Whitstran School through the eighth grade and then on to Prosser High School.
On Oct. 1, 1939, she married Hubert H. Harsh. She and her husband were long time members of the Central Christian Church in Prosser where they raised their four girls. Ella taught Sunday school and was an active member of the Women's Association.
Through the years she worked at Jerry's Men's Shop and Dry Cleaners and Vida's Apparel in Prosser and Marni's Apparel Shop in Grandview. In 1966, she opened "Young Fashions" children's store in Prosser in the former R.E.A. building that she and Hubert purchased. She owned and operated this successful business for nearly 30 years.
Ella was an avid seamstress and created many beautiful garments for her daughters and herself. She was a member of the Vesta Club for many years. She also bowled on a league team in both Sunnyside and Prosser.
In retirement Ella and Hugh enjoyed going south to Phoenix during the cold winter months. They both enjoyed square and round dancing together and spent many of their later years dancing and making many new treasured friends.
Ella was a special wife, mother, grandmother, great- grandmother and great-great- grandmother. Her family loved her deeply and she will be greatly missed by all.
She is survived by three daughters Patti Webber of Idaho Falls, ID., Carol Kuatt and husband Lonnie of Parkdale, Ore., and Jeannie Grimes and husband Jim of Grandview. She is also by 13 grandchildren, 31 great-grandchildren and 21 great-great grandchildren.
Ella is preceded in death by her husband, Hubert H. Harsh, her parents, Edward McCall and Anna Marie McCall, sisters, Evelyn Pickett of Portland, Ore., Shirley Miland of Prosser and Theda Heintz of Grandview, brothers Eddie McCall of Prosser, Howard McCall of California, Jack McCall of Maxwell, Calif., Don McCall of Benton City, Ron McCall of California, Bob McCall of Edmonds and a daughter Bertie Nechanicky of Prosser.
Viewing and visitation will be held from 1-5 p.m. on Thursday, Dec. 28, 2017, at the Smith Funeral Home in Grandview. Funeral services will be at 10 a.m. on Friday, Dec. 29, 2017. at the Prosser Church of The Nazarene with graveside services to follow at East Prosser Cemetery.
In lieu of flowers donations would be appreciated to the Prosser Church of The Nazarene or Heartlinks Hospice and Palliative Care of Sunnyside.
Those wishing to sign Ella's online memorial may do so at www.funeralhomesmith.com.
Smith Funeral Homes in care of arrangements.