Friday, December 22, 2017
OLD-TIMER'S VIEW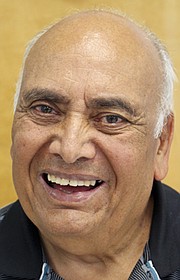 I hope you enjoyed the story of Mabton's Kathy Beeman and her family the last four days.
Roger, the publisher, brought it to my attention. I breezed through it to see what connection it had to the valley.
When I saw Grandview and Mabton in there, I went back and read the story fully. I really enjoyed it.
Before we presented it, I met with Kathy at her home. She was gracious.
We discussed adoption in general. Pat and I started our family with two adopted children, brother and sister.
I asked Kathy if she thought all adopted children have this need to know. She thought about it and said she wasn't sure.
Yesterday on the phone, she told me her brother David Olfather, also adopted, had found his family a couple of months ago, and he was excited.
"Yes, they do," she said.
The story from the Lewiston Tribune made it seem as if Sharon Richardson was at the center of this search. That nagged at Kathy a little until I explained that newspapers like to localize stories
Sharon lives in Lewiston, and it was she who provided the information. She was the one who was interviewed. Naturally, she was the writer's point of reference.
If all five were to be interviewed for separate stories, there would be five different accounts. Even two people, like Pat and I, don't recall the same event the same way.
Now, I'm writing this followup with Kathy as the point of reference. She told me that all five wanted to find each other, even though Rex was late to the party.
When they finally reunited at Kathy's place in April, their first meal together was at El Conquistador in Sunnyside on a Friday evening. Their second was pot roast, made by the sisters, on Saturday.
Their search led them back to their father in Walla Walla and mother in Yakima. Both have since died. It also led to the attorney who handled the case for the state.
He is a judge now in Walla Walla. He was the only person at the courthouse when the sisters went there, and he offered to help.
When the judge found the record, he saw his name. He told the sisters but said he didn't remember the case.
"It was a strange feeling," Kathy said.
Finding Rex was the toughest task in putting this family back together, mostly because he was just 3 when they were separated.
Kathy was adopted by Melvin and Arlynn Oldfather. They are still her father and mother. Her siblings, Wally, David and Joanne Oldfather, were all adopted.
The reason Sharon and Kathy seem closer in the story than Sandy and either of the other two is that Sandy continued to live with her mother until she was on her own.
Sharon and Kathy shared the same foster homes until they were separated by adoption. Both cried then and many times after until they became accustomed to their new lives.
Sharon and Kathy came close to re-uniting the night of Kathy's adoption.
Kathy's parents took her to a buffet type of place she chose for dinner. When she arrived at the cash register, the cashier was Helen Bargewell, the woman who had adopted Sharon.
Problem was Kathy didn't know. Kathy learned afterward that Bargewell had told Melvin and Arlynn that their daughter looked a lot like her daughter, but they spoke out of Kathy's hearing range.
The Bargewell cousin who tells Sharon Kathy's name and whereabouts heard Sharon's parents discussing the girls. That was the breakthrough Sharon needed. After Kathy and Sharon made contact, they decided to look further. It didn't take long to find Sandy and Gary.
Rex was a different matter.
"We'd say let's try this, and we'd try this, and it wouldn't work," Kathy said.
Kathy did most of the leg work getting to Rex. It finally came down to DNA, which Kathy poo-pooed.
"My friend had done it, and that's why I did it," she said.
That eventually led to the name of a person who could be Rex, but Kathy was weary after all the dashed hopes and slowed down.
She started to perk up again when her granddaughter Loren asked one evening very late last year if there had been any progress.
The next evening her son Casey asked the same question. She had no phone number, she said.
"Well, Google him," Casey said.
Kathy laughed off the thought. It was bedtime, but that Google thought nagged at her. She fired up her laptop and Googled the name Rex Bolen.
To her surprise, there was a phone number. But, she thought, this is the cellular world, and that's probably a number to a land line, which surely Rex doesn't have. She hesitated.
When she told Sharon about the number she had, in March, Sharon practically ordered her to make the call. She did, and the five-person circle was completed.
But there is more to the story Sharon told. The five siblings have an older half-brother by the name of Leo Lauritson, son of their father.
Leo's at least five years older than Sandy, the oldest of the five. They hope to find him.
"That would be the icing on the cake," Kathy said.
That could make for a very merry Christmas
And Merry Christmas to all of you.
— Ted Escobar is the managing editor of The Daily Sun. Email him at tescobar@dailysunnews.com.