Wednesday, December 20, 2017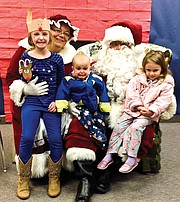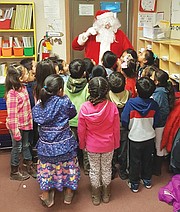 SUNNYSIDE — Nearly every day, Santa Claus has been making visits to the lower Valley schools and community centers, not to mention local malls.
It's just a reminder for children - of all ages - to be nice, not naughty.
Santa listened as children whispered their secret requests and even collected letters. He also shared a candy cane or two with the children.
Prosser Police gave Santa an escort on a Christmas letter run to Keene-Riverview School on Friday.
Monday, Santa held a workshop at the local community center, sponsored by the Parks and Recreation Department. Children snuggled up to Santa, and later made crafts at various stations in the center's gymnasium.
For children who haven't had an opportunity to visit with Santa, he is planning a few more stops at the local mall - right up to Christmas eve. for those children who haven't had an opportunity to share their lists.