Wednesday, December 20, 2017
GUEST COLUMN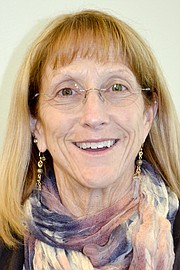 The holidays are upon us in full force. Lights, advertising and celebrations, fun and yes, stress.
The holidays, while meant to be fun and celebratory, bring with them an increased amount of stressors and pressures. Pressures which include gift-buying, baking, traveling, and parties.

Yes, more people drink during the holidays. Sometimes alcohol is used as a stress reliever, but more so, the numerous parties and festivities contribute to increased drinking.

Many holiday drinkers don't drink often, so they have a lower alcohol tolerance. These people often underestimate their level of impairment and sometimes drive when they shouldn't.
When arrested for drunk driving, these people often show a relatively low blood alcohol content, yet they are very intoxicated.
Problem drinkers and alcoholics love the holidays because there are more social occasions to drink. They say they feel more "normal" because the occasional drinkers are also more likely to abuse alcohol during this time of year.
Consequently, people with alcoholism drink and drive more frequently. Unlike occasional drinkers, they have a high tolerance for alcohol and can consume large amounts before showing effects.
The holidays are busy and stressful. People are hurrying more than normal and winter road conditions make driving more dangerous. Add alcohol to this scenario and you have a recipe for disaster.
Five Simple Tips for consuming alcohol in moderation can help make your holidays happier and safer.
Alcohol, is not a necessary ingredient for holiday cheer. It is not rude to choose a non-alcoholic beverage at a party.

If you are hosting a party and choose to offer alcohol to guests, offer nonalcoholic beverages as well. Help guests feel as comfortable choosing a nonalcoholic beverage as they would choosing an alcoholic beverage.

How to do this: a) Put nonalcoholic drinks in a prominent, easily accessible place; b) ask guests what they would like to drink, instead of pointing them to the bar or handing them an alcoholic beverage when they arrive
Make the decision that drinking and driving is not an option. Decide in advance who will be the designated driver.
If you choose to drink, do what responsible drinkers do. Make a decision ahead of time how many drinks you will have and stick to it.
If you need help to make your decision, a blood alcohol content chart can help you understand the relationship between the amount of drinks, blood alcohol content and level of impairment. The main purpose of a party is to have fun with people you know.
It's easy to lose sight of this and see it as a chance or opportunity to drink socially when at holiday celebrations or parties. Drinking is always an option and optional.

It is as much as a choice as it is a responsibility. If you find you have consumed too much alcohol, find a friend or loved one and ask to go home.

You can stop before you go too far.

You can ensure your holiday season is a relaxing, enjoyable and peaceful one as long as you remember to drink in moderation and encourage your loved ones to do the same. Continue to remember the reasons people celebrate at this time of year.

— Kathy Kelly leads the Sunnyside United/Unidos program that was created a few years ago to fight substance abuse among the young in the community.