Tuesday, December 19, 2017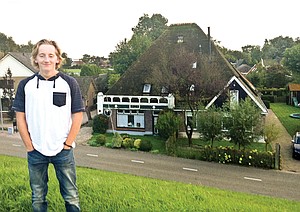 SUNNYSIDE — Reese Campbell missed out on being a foreign exchange student this school year.
Still, his desire to visit the native home of his family was strong enough for the high school senior to pack his bags and travel to Andijk, the Netherlands, a country which has a special place in his heart.
While it's been several years since Reese, the son of James and Nanci Campbell, made his trip, young Campbell is planning to travel there again.
Here is his story:
"I was able to travel to the Netherlands in 2015 for about 10 days and I loved it so much I wanted to go back for a longer time.
My "Opa" — grandpa in Dutch — was from The Netherlands. He was born and raised in a village called Andijk, and that's where I spent the three months I was there.
Opa's last name was Vriend, which means Friend in Dutch. When his family came to America, they Americanized the name and became the Friend family.
My Opa (Nick Friend) and his brothers have been local flower growers here in the Yakima Valley for several decades. 
I lived with some Vriend family cousins. They had a daughter my age and a son, 13.
The Vriend family is still in the growing business, but the family I stayed with has a business more focused on testing, growing, packaging and selling vegetable seeds.
I was also able to meet some of my Opa's cousins.
I found the Dutch people to be very hospitable and friendly, and when even distant relatives heard I was in the area they came to visit and have tea and cookies.
I went on the trip from August to late November.
I wanted to be an exchange student for a full school year, but I started the process too late and I would not have been able to graduate on time.
So, I just went for one trimester and I studied at a school called Martinus College in the nearby town of Grootebroek. I took Spanish, Dutch, English, Roman history, algebra, physical education, and cultural arts classes. All these classes were in Dutch.
The school was about the same size as Sunnyside High School. Students in Holland ride their bikes to school, so I rode my bike every day 30 minutes each way.
There was no school hot lunch, so everyone brought their own sandwiches from home.
For breakfast, we often ate bread covered with butter and chocolate sprinkles called Hagelslag.
I made many friends, as the students there were very friendly.
We would go to the mall after school and hang out. Teens there like to play soccer and handball. People are very active in general, you will see many senior citizens riding their bikes alongside the younger generation.
The host family I stayed with liked to have fun. We spent Friday evenings at the pub watching the father, Jan, play billiards. We would have friends over on Saturday nights, and go play pool often with family friends.
I was able to go to Amsterdam several times.
We experienced the Dutch culture there by walking around, going to museums, shopping, and sitting at cafes and Irish pubs watching people.
Even small children are allowed in the pubs there.
I was also able to travel to Germany with two fellow exchange students, and there we saw beautiful cathedrals and other sights.
The travel experience overall was fantastic. I hope to go back and possibly work there after college.
I learned quite a bit of Dutch, and hope to find someone in the area to practice with to keep my skills up.