Thursday, August 31, 2017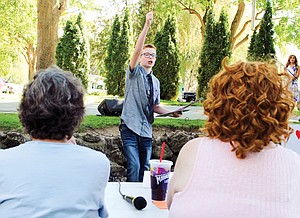 PROSSER — A vocal group, a magician, a yo-yo artist and a soloist are among those who have already registered for the 6th annual Valley's Got Talent contest to be held as part of States Day on Monday.
But, first the contestants and any other talented valley residents, wanting to earn fame and cash must compete in a set of preliminary rounds.
The preliminaries will be held Saturday from 9 a.m. to noon at the Princess Theatre, 1228 Meade Ave., Chamber Executive Larelle Mitchener said. The doors will open at 8:30 a.m. to allow people to register prior the start of auditions.
She said judges will chose the top 10 talents to compete in the finals at 2 p.m. Monday on the Sylvan Stage in Prosser City Park.
Last year, singer Elise Murphey was the top prize winner singing "You belong to Me," earning her $500 in cash. Keith Ramsey, a magician and singer Dakota Brown, collected second and third place, respectively.
There is a $15 registration fee. Call the chamber office at 509-786-3177 to register for Valley's got Talent.