Thursday, August 31, 2017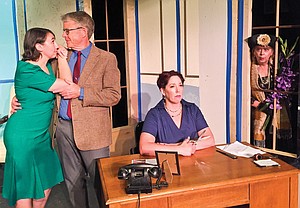 PROSSER — Princess Theatre will open its doors to Valley Theater Company's first foray into drama and mayhem Sept. 8, when the murder mystery "Speaking of Murder" opens at 7:30 p.m. for a five-day run.
Company Artistic Director Candace Andrews said the cast will include a number of seasoned veterans of community theater, including two Quinnie Award winners from past productions.
Doug Hansen, who plays Charles Ashton, and Connie Hull, who takes on the role of Mrs. Walworth, have both been awarded VTC's top acting accolade.
Other cast members are Jenny Johnson as Connie Barnes Ashton, Finnegan Doherty as Ricky Ashton, Emily Johnson as Janie Ashton, Allisen Reid as Annabelle Logan, Zoe Wilson as Mildred, and Joseph Charvet as Mitchell.
In the production, the characters weave a suspenseful tale of intrigue in which a man remarries after his first wife's mysterious death, unaware of his jealous secretary's role in her demise and the secretary's similar plans for his second wife.
The plot thickens when the secretary uses the man's young son as a foil as she establishes a motive.
In an interesting case of art imitating life – or simply fortuitous casting – Grandview resident Jenny Johnson and her daughter, Emily Johnson, play mother and step-daughter as Connie Barnes Ashton and Janie Ashton in the production.
Cast member Connie Hull's son, Mark, now 31, played the role of Ricky Ashton in 1999, when the Richland Players did "Speaking of Murder."
Connie had auditioned for the role of Mrs. Walworth in that 1999 production but was too young for the part.
Andrews said she was excited to "shake things up" to kick off the company's 2017/18 season with VTC's first murder mystery.
She also noted that according to the Samuel French website, "VTC is the only theatre company in the entire United States that is currently producing "Speaking of Murder." The play is directed by Bill Campbell and co-produced by Suzanne Kephart and Linda Pietz.
The show and will run for five performances Sept. 8, 9, 10, 15, and 16. The Sept. 10 performance will be a matinee.
Tickets for "Speaking of Murder" are available at Adventures Underground in Richland, Bonnie's Vine & Gift in Prosser, Sixth Street Art Gallery in Prosser, and on the Princess Theatre website ThePrincessTheatre.net.
Ticket are priced for adults, for seniors, students, and active military.
The theater and box office will open at 7 p.m. and the performance will begin at 7:30 p.m. for evening performances. For the matinee, doors will open at 2 p.m. and the show will begin at 2:30 p.m.