Thursday, August 31, 2017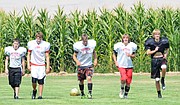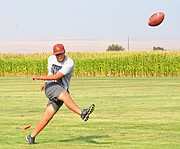 SUNNYSIDE — Tonight the Sunnyside Christian football team kicks off the football season against Almira-Coulee-Hartline at 7 p.m. on the Granger High School gridiron.
The Warriors are going to be a formidable opponent for the non-league game, having a 2015 1B state title to their credit. They ended last season ranked No. 7 in the state with a 10-2 record.
The season ended for them in a 28-60 loss to Odessa-Harrington in the state quarterfinals, paving the way for the Knights to play against eventual second-place Odessa-Harrington in the semi-finals.
The Knights ended the 2016 season, surprised with a third-place trophy after losing the semi-final game to the Titans, 28-60. Sunnyside Christian was 12-1 overall.
"I'm thinking it's going to be a really good game," Knights coach Jeremy Thomas said of tonight's match-up.
Last year, both teams defeated Touchet. The Titans won 22-20, while the Knights won their game against Touchet 42-20.
The Knights' average was 45-24, and the Titans averaged 43-19.
Odessa-Harrington was the only team to defeat Almira-Coulee-Hartline, winning a regular season game, 50-12, in addition to the state quarterfinal.
Other teams both Sunnyside Christian and the Titans faced last season include Yakama Tribal, Pomeroy and Cusick.
Thomas said the Knights have been able to review footage of last year's Titans, and he hopes they will be running some of the same plays tonight.
The Knights relied on their passing game last season and believe it's their strength, Thomas said.
But, he is planning a balanced attack tonight. "We will utilize our two running backs — Lucas Dykstra and Kyler Marsh," he said.
The defense for Sunnyside Christian is untouched from last year, so he will be depending on those players to hold off and contain the Titans' offense.
"Their offense is similar to ours with a big play pass," Thomas said.
Sunnyside Christian receivers Brennan Rip, Lane Marsh and Luke Wagenaar will run on a rotation, and Thomas anticipates the Titans defense will try to stop the pass.
"They will try to come after quarterback Chance Marsh on the blitz," he said.
Lane Marsh and Luke Wagenaar both feel better prepared for the start of the 2017 campaign.
"I'm anticipating a win," Marsh said. "I'm excited to play the first game of my senior year."
Wagenaar said the team worked hard in the off-season and he believes everyone looks ready for the first game.
"We have a lot of guys who can make big plays," he said.
"The first few weeks last year felt slow, but I feel ready for the first snap," Marsh said.
Wagenaar said it will be important to open up the lanes for the running backs, "... and give them a big day."
He is confident about the chemistry he and Marsh have with Chance Marsh.
"I think it will be good and should be easy for Lane and me to work well on running routes and throwing passes," Wagenaar said.
As for the defensive effort, he said it is important to watch Titans quarterback Maguire Isaak, "... who likes running around.
"We have to contain him and their big receiver — Peyton Nielson."
Tomorrow, Sunnyside High School kicks off its season at home against Cheney.