Wednesday, August 30, 2017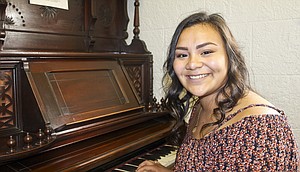 SUNNYSIDE — Miss Sunnyside candidate Andrea Limon admits she struggled with math.
Now, the 16-year-old hopes to share her mathematical successes with others by hosting a math night for students and parents.
"I struggled but with help was able to get better, and now I help my fellow classmates," Limon said.
The desire to help others with their math challenges is the type of community service project Limon hopes to promote if selected Miss Sunnyside in mid-September.
She is one of 11 candidates who will vie for the title during the Miss Sunnyside Pageant at 7 p.m. Sept. 16, on the Sunnyside High School auditorium stage.
She said one of the things she has enjoyed about the Miss Sunnyside program is getting to know the other candidates. "We get to learn more about each other, especially during our weekly practices," she said.
Limon is the daughter of Hilda and Miguel Limon and the youngest of three sisters — Jacqueline, 20, and Carolina, 19.
Her sister, Carolina, also ran for Miss Sunnyside. "She told me how being in the program helped her to become more involved in activities. I want that for myself," Limon said. "I want to learn how I can help my community."
Limon is already active in her school organizations where she is the Associated Student Body treasurer, a member of Pep Club and a mentor on the Link Crew. In addition, she plays softball.
Limon is also a violinist, a skill she began studying as a middle school music student. She will showcase that talent during the talent portion of the pageant playing "Despacito" by Luis Fonsi.
Her hobbies, when not busy mentoring fellow math students, include her music, spending time with her family and her school activities.
She eventually hopes to study chemistry at the University of Washington.
She is sponsored by Sunnyside Dairy.