Wednesday, August 30, 2017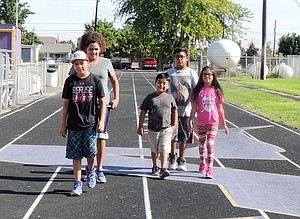 OLD-TIMER'S VIEW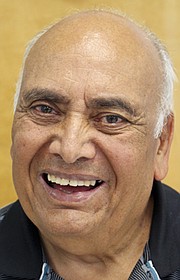 Sometimes when I go out to work on a story, I come across something else that gets my attention.
I was walking onto the Mabton High School campus a couple of weeks ago to photograph football practice, and I saw a group of smaller children on the track.
Thinking most kids that age don't do walks and jogs at 9 a.m., at least not without a parent, I stopped and asked what they were doing.
"We're just going for a walk," Jocelyn Acosta, 13, said.
Cool, I thought.
"We do it all the time," she said.
I thought they were just all friends, and she told me they were all Acostas, and the other kids came into the conversation.
There were six Acostas all together, two families, from Sunnyside and Grandview. We chatted about the value of walks and jogs. Exercise, in other words.
I went on to the football team. When I came back the Acosta kids were there waiting to chat again. I obliged.
It was then they told me they live in Sunnyside and Grandview. Then why are they walking on the Mabton track, I wondered.
"Oh," Jocelyn said. "We're all staying with our grandma right now, and she lives right there (across the street from the track)."
The kids were not mooching. It turned out they were keeping their grandmother company while she recovered from medical situation. They were there to help.
"She doesn't need us all the time. So we go walking," Jocelyn said. Or we play other games. Sometimes we make up games and play. We're always together."
It was fun chatting with the Acosta kids. They showed there is still hope for this world.
By the way they articulate and by the breadth of their vocabularies, you can see they are serious students in school. Two of them have the speech typical of brainiacs.
And they love to compete. When I asked who was the smartest among them, they all claimed the title.
Jocelyn plans to be an actress. Michael, 11, has plans to play major league baseball. C.J., 10, also wants to play professional baseball.
Brooklyn, 7, hopes to become a professional singer. And Roman, 5, is shooting for bone doctor.
Whatever their dreams are as they move along through life, I hope they achieve them.
I've never seen so many kids with such positive attitudes as the Acostas. And they make time to watch out for
grandma.
— Ted Escobar is the managing editor of The Daily Sun. Email him at tescobar@dailysunnews.com.